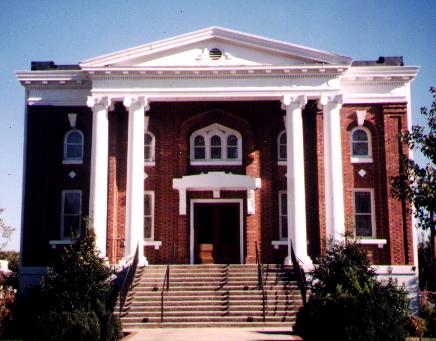 Word of Life
12/18/11
Candlelight Service
I John 1:1-7
(1) That which was from the beginning, which we have heard, which we have seen with our eyes, which we have looked upon, and our hands have handled, of the Word of life;
(2) (For the life was manifested, and we have seen it, and bear witness, and shew unto you that eternal life, which was with the Father, and was manifested unto us;)
(3) That which we have seen and heard declare we unto you, that ye also may have fellowship with us: and truly our fellowship is with the Father, and with his Son Jesus Christ.
(4) And these things write we unto you, that your joy may be full.
(5) This then is the message which we have heard of him, and declare unto you, that God is light, and in him is no darkness at all.
(6) If we say that we have fellowship with him, and walk in darkness, we lie, and do not the truth:
(7) But if we walk in the light, as he is in the light, we have fellowship one with another, and the blood of Jesus Christ his Son cleanseth us from all sin.
This past summer, Beth and I were down in Charleston, and we had heard about the Angel Oak tree so we drove down to John's Island looking for it. Thank goodness for GPS because it is located on an obscure dirt road which looks like it is going nowhere. And there is no elaborate entrance or any thing like that. You drive up, and there it is. It blows you away. Lord that is a tree. It is the oldest living thing east of the Rocky Mountains. Think about that. On the North American continent, east of the Rocky Mountains, the oldest living thing is right down here on the coast of SC. It is called the Angel Oak. It is a live oak tree approximately 1,500 years old. Most locals simply call it The Tree. Live oaks generally grow out and not up, but the Angel Oak has had plenty of time to do both, standing 65 ft high and with a canopy providing 17,000 square feet of shade. Its limbs, the size of tree trunks themselves, are so large and heavy that some of them rest on the ground (some even drop underground for a few feet and then come back up), a feature common to live oaks. It has survived countless hurricanes, floods, earthquakes, and human interference. The Angel Oak has shaded John's Island, for over 1400 years. It blows my mind to realize that the Angel Oak was 1000 years old when Columbus discovered America. Many people who have seen it claim it is the most stupendous thing in SC, and it is free. Do not tell the people at Myrtle Beach that though.
How about you have you ever seen something that took your breath away? It stopped you dead in your tracks and you said, wow. I suppose different things affect different people. Some people would look at a fully restored 1967 Pontiac GTO or a fully restored1953 Chevrolet Corvette and say, that blows your mind, that cooks your cookie. As a minister I have done many weddings, and I have to say that instant when the bride starts down the aisle, that is a wow moment.
In the opening verses of the first letter of John, the author is describing a WOW moment. Maybe we ought to call it the WOW moment. He's captivated; gripped; seized, taken hold of, by this moment with Jesus. He is declaring to us the most incredible and wonderful truth that totally changed his life, and which changes ours also.
Hear the first four verses again, but this time from Peterson's paraphrase, which is called The Message: "From the very first day, we were there, taking it all in – we heard it with our own ears, saw it with our own eyes, verified it with our own hands. The Word of Life appeared right before our eyes; we saw it happen! And now we're telling you in most sober prose that what we witnessed was, incredibly, this: The infinite Life of God himself took shape before us. We saw it, we heard it, and now we're telling you so you can experience it along with us, this experience of communion with the Father and his Son, Jesus Christ. Our motive for writing is simply this: We want you to enjoy this, too. Your joy will double our joy!"
John desperately wants to communicate what has happened to him to us. It is the most important thing he has ever imagined.
Perhaps we should begin at the beginning. Most scholars believe that I John was written around 100 AD, and they point out that it is more sermon than letter. For one thing, it is not addressed to anyone and for another the author is not identified. Usually a 1st Century letter began by identifying the author's name and the recipient's name. That is true of the letters of 2nd and 3rd John, but not 1st John. Traditionally the author of 1 John is John the apostle, the son of Zebedee. If that is so, then this is probably a sermon of the Son of Zebedee that was written down and passed around the churches.
On of the problems with authorship is that if John the apostle is the author, why does he not tell us so, and why does he use other means to establish his authority. That is in part what the opening verse of this letter/sermon are about. The authority of the writer. He says that he has credentials. His credentials are that he is a witness. He has had a personal WOW exerience with Christ.
He has heard Christ Jesus. We wonder in what sense he means this. Has he heard Christ spiritually, that is has the Lord spoken to him the way the Lord still speaks to you and me, soul to soul and spirit to spirit. Or was he one of those first disciples who literally heard Jesus teach. Maybe he means he has heard Jesus in both senses, both literally and spiritually.
He says he has seen Jesus. Again we wonder how he means this? Did he literally see Jesus as the lord walked the hills and paths of Galilee? Or has he seen him spiritually, as the Apostle Paul saw him on the Damascus Road.
Then he says he has looked at Jesus. We wonder why the repetition? He just said that. He has seen him and he has looked at him. The emphasis seems to be that he has had a real experience of Jesus.
He says he touched Jesus. Again we wonder in what sense he means this. Did he touch him literally and physically. If so, Jesus told doubting Thomas that was the lesser way to touch him. Or did the author of I John touch Christ in the Spirit. Again like the Apostle Paul.
And why we might ask, does he go on and on about this? Because this is the high point of his life. And because this experience establishes his authority. He can speak with power to us because he derives his authority from Jesus. If we had said to him, why should we listen to you? Why should we trust your testimony? He replies, because I had a spiritual wow experience with Jesus. I have seen and handled the truth about Jesus, and I want to tell you about it. Jesus is real, in fact Jesus the realest thing you will ever encounter.
The first point he makes is that Jesus is "that which is from the beginning." Jesus did not just make a surprise appearance in Bethlehem in the First Century. Rather Christ has been embedded in creation from the very first. He is the source and power of the universe. The introduction to the gospel of John sounds somewhat similar.
(1) In the beginning was the Word, and the Word was with God, and the Word was God.
(2) He was in the beginning with God.
John 1:1-2 ESV
In the gospel of John, the emphasis is on the Word that was God and in First John, the emphasis is on the Living Word, but it is obvious that this is just a difference in terminology but they are talking about the same thing. They are talking about Jesus. Whenever the beginning was, Jesus was there. There is no time when Jesus was not.
Then in I John 1:2, we read, "(For the life was manifested, and we have seen it, and bear witness, and shew unto you that eternal life, which was with the Father, and was manifested unto us;)" He claims to have had an experience with the living word and he is telling us about it. He is telling us about the word of life that is for all eternity, which is from God and is available to us.
The gospel of John makes a similar point in slightly different terms. John 1:14: "And the Word became flesh and dwelt among us, and we have seen his glory, glory as of the only Son from the Father, full of grace and truth."
In both cases, the emphasis is that Jesus is a real person. He came in the flesh. He made a real entry into the world of men and women.
I John says that Jesus is the Word of Life. The gospel says that Jesus brings abundant life (Jn. 10:10) and eternal life (1 Jn. 1:2). It is through the word of life that each one of us can be delivered from sin and death.
Jesus is the real deal. That is the message of I John, and belief in Jesus has practical implications. The author tells us why he is writing this sermon. V3: "That which we have seen and heard declare we unto you." Again, he is talking about his experience but then he moves on to results: "that ye also may have fellowship with us: and truly our fellowship is with the Father, and with his Son Jesus Christ." The author wants his message to result in Fellowship with others and with God. Fellowship is a partnership or joint sharing. It has the idea of community with others. It denotes active participation where the results depend on the cooperation of all that are involved. Because of Jesus we can have fellowship, a oneness, with God and with other believers. That fellowship reaches up to God and out to every believer. Christian fellowship is triangular: my life in fellowship with Christ, your life in fellowship with Christ, and my life in fellowship with yours. We are joined together by a common purpose and devotion to Christ that makes us a united faith community, growing together in love.
Then John said, that he wrote these things to us "that our joy may be full." This is the result of being in fellowship with God and God's people. We may be happy, we may be joyful, about many things in this life, but ultimately our greatest happiness, our greatest joy is fellowship with Christ. True joy is found only in one place – a relationship with Christ, and the body of believers.
I heard an old story which may or may not be true. It goes like this: One day a Christian scholar at a conservative Christian college made a presentation "proving" that the resurrection of Jesus was false. He quoted scholar after scholar, and book after book, and he concluded that there was no such thing as a historical resurrection. His audience was dumbfounded. They could not believe that a Christian, any Christian, would speak like this to a gathering of believers. Then the scholar took an apple out of his lunch box and began to eat it. After a few seconds he said, "I have a final question for you." He took another bite and then he said, "This apple I'm eating…is it bitter or sweet?" Obviously no one could answer the question because they had not tasted the apple. Then the scholar said, even so, no one can prove or disprove Jesus until they have tasted him." that is until they have had a personal WOW experience with Jesus.
The author of First John had truly "tasted" Jesus; he had studied him up close and personal. He declared that Jesus is the Word of Life. Those of us who have put our faith in Christ have found this to be true and we are filled with joy because of it. We have fellowship with God and with each other, and we discover abundant and eternal Life and Joy in Christ.
Frances Ridley Havergal (December 14, 1836 – June 3, 1879) was an English religious poet and hymn writer. He wrote:
O Jesus make Thyself to me
A living, bright reality,
More present to faith's vision keen
Than any outward object seen,
More dear, more intimately nigh,
Than even the sweetest earthly tie.

If you have questions or comments, email Tony Grant

Copyright 2013 York Associate Reformed Presbyterian Church
Last Modified: 05/02/13