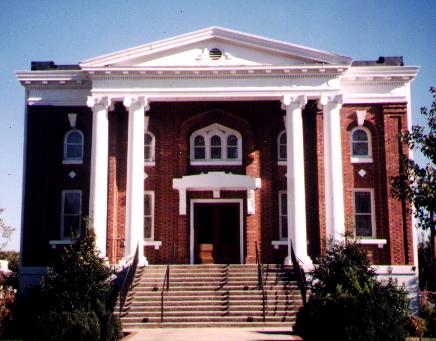 SYNOD BICENTENNIAL CELEBRATION
WESTERN CATAWBA PRESBYTERY
Assemble in God's Name
Prelude: Selections on the Hammer Dulcimer,
Rev. David Rowe, Pastor of Blacksburg ARP Church
s Bible Songs: "The Praises of Heaven and Earth" /#313:
s Passing the Peace
Call to Worship (John 10:14-17)
Leader: I am the good shepherd, and know my sheep, and am known of mine.
People: As the Father knoweth me, even so know I the Father: and I lay down my life for the sheep.
Leader: And other sheep I have, which are not of this fold: them also I must bring, and they shall hear my voice; and there shall be one fold, and one shepherd.
People: Therefore doth my Father love me, because I lay down my life, that I might take it again.
Opening Prayer:
Rev. Alan Morrow, Pastor of Bethany ARP Church
Prayer of Confession (in Unison)
Almighty, eternal God and Father, we confess and acknowledge unto thee that we were conceived in unrighteousness and are full of sin and transgression in all our life.
We do not fully believe thy word nor follow thy holy commandments.
Remember thy goodness, we beseech thee, and for thy name's sake be gracious unto us, and forgive us our iniquity.
This we pray in the name of the only-begotten Son, Amen. [Martin Bucer 1539]
Declaration of Forgiveness
Leader: The saying is sure and worthy of full acceptance, that Christ Jesus came into the world to save sinners (I Timothy 1:15).
People: He himself bore our sins in his body on the cross, so that, free from sins, we might live for righteousness; by his wounds you have been healed (I Peter 2:24).
Proclaim God's Word
Prayers of the People
First Scripture Lesson and Remarks
Rev. Kyle Sims, Pastor of Hickory Grove and Smyrna ARP churches.
Special Singing Dr. Merideth Cavin, Pastor of Sharon ARP Church, Susan Cavin, Sarah Cavin.
s Hymnbook: "He Leadeth Me: O Blessed Thought" #338
Second Scripture Lesson and Remarks
Rev. Rob Patrick, Pastor, Clover ARP Church
Go in God's Name
s The Apostles' Creed
s Prayer
Rev. Bill Babson, Pastor of Living Waters ARP Church
s The Lord's Prayer
s Bible Songs "Christian Unity" #280
s Charge and Blessing
Postlude:
s: all who are able, please stand.
After the service, you are invited to the fellowship hall for refreshments.
Synod's Bicentennial
On November 1, 1782, the Associate Presbytery of Pennsylvania, the Associate Presbytery of New York, and the Reformed Presbyterian Presbytery of North American joined to form the Associate Reformed Church.
Eight years later, the Associate Reformed Presbytery of the Carolinas and Georgia was formed in Abbeville County, SC. The Associate Reformed Church prospered and was soon reorganized into synods. On May 9, 1803, the Synod of the Carolinas was organized at the Old Brick Church in Fairfield County, SC. Seven ministers, two probationers and six elders attended that meeting.
In 1822 the Synod of the Carolinas was granted separate status, becoming the Associate Reformed Synod of the South. By the end of the century this Synod was the sole remaining body of the Associate Reformed Church (Several mergers absorbed the rest of the denomination into the old United Presbyterian Church).
In 1912, the Associate Reformed Synod of the South became simply "The Associate Reformed Synod." In 1935, the name was changed again to "The General Synod of the Associate Reformed Presbyterian Church."

If you have questions or comments, email Tony Grant

Copyright 2000 York Associate Reformed Presbyterian Church
Last modified 9/8/03