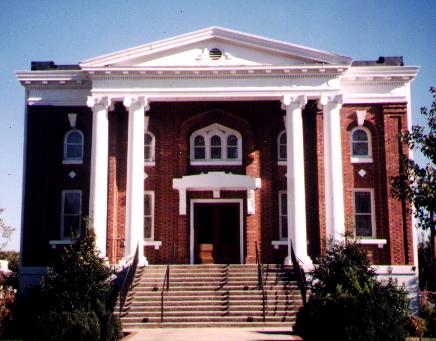 Meeting God
February 17, 2008
Exodus 24:12-18
12 And the LORD said unto Moses, Come up to me into the mount, and be there: and I will give thee tables of stone, and a law, and commandments which I have written; that thou mayest teach them.
13 And Moses rose up, and his minister Joshua: and Moses went up into the mount of God.
14 And he said unto the elders, Tarry ye here for us, until we come again unto you: and, behold, Aaron and Hur are with you: if any man have any matters to do, let him come unto them.
15 And Moses went up into the mount, and a cloud covered the mount.
16 And the glory of the LORD abode upon mount Sinai, and the cloud covered it six days: and the seventh day he called unto Moses out of the midst of the cloud.
17 And the sight of the glory of the LORD was like devouring fire on the top of the mount in the eyes of the children of Israel.
18 And Moses went into the midst of the cloud, and gat him up into the mount: and Moses was in the mount forty days and forty nights.
When Ronald Reagan was President of the United States and leading the fight against Communism, he told a story about a collective farm in the old Soviet Union, one in which a state commissar grabbed a farm worker and said, "Comrade, how are the crops?"
"Oh," said the farm worker, "Comrade Commissar, if we could put the potatoes in one pile, they would reach the foot of God."
The commissar corrected him, "This is the Soviet Union, comrade. There is no God."
"That's all right," said the farm worker, "there are no potatoes."
That is a joke, of course, but it was sometimes all too true in describing conditions in Russia at the time. Reagan did something else when he was president. In February of 1983, he declared that year to be "The Year of the Bible." (See: www.reagan.utexas.edu/archives/speeches/1983/20383b.htm)
Well 1983 was a good year. It's remembered for the final episode of the television series M*A*S*H, which ended after 11 years and 251 episodes. It was the same year that Sally Ride became the first American woman in space, and it was the year that Microsoft Word was first released. As I said, 1983 was a memorable year but I doubt if many people remember that it was supposed to be "The Year of the Bible."
President Reagan's proclamation said, in part, "Today our beloved America and, indeed, the world, is facing a decade of enormous challenge. As a people we may well be tested as we have seldom, if ever, been tested before." That was true then, and it's true today, 25 years later. He went on to say, "We will need resources of spirit even more than resources of technology, education, and armaments. There could be no more fitting moment than now to reflect with gratitude, humility and urgency upon the wisdom revealed to us in the writing that Abraham Lincoln called 'the best gift God has ever given to man … But for it, we could not know right from wrong.'"
"The Year of the Bible" came and went, and everybody promptly forgot about it. As you may know I am not particularly an admirer of President Reagan, but he was right when he said that we still need "resources of spirit even more than resources of technology." The Bible remains one of God's greatest gifts to us, revealing the Lord's will and showing us what is right and wrong. Even more important than that it shows us the way of salvation. We should approach this book with gratitude, humility, and urgency—not just one year, but every year.
Today's passage from Exodus gives us an excellent place to begin. God says to Moses, "Come up to me into the mount, and be there: and I will give thee tables of stone." God gave Moses two stone tablets, the Ten Commandments. Moses goes up Mount Sinai, into a cloud that contains the glory of the Lord, and receives the gift of two tablets. But he soon discovers that the laws of God can be a hard pill for people to swallow.
Some of the pills the doctors give you today are very hard to swallow. My mother calls them, "horse pills." Once I got choked on one and thought I was going to die. That would be bad, wouldn't it? To choke to death on a pill that was suppose to make you well.
We can think of God's law as a medicine that makes us spiritually well, but the people of Israel choked on it. They never really kept the law.
The giving of the commandments had actually occurred earlier, in Exodus 20. These laws had been delivered in a terrifying pyrotechnic display of thunder and lightning and smoke. This shock-and-awe show caused the people of Israel to tremble and stand at a distance, and they said to Moses, "You speak to us, and we will listen; but do not let God speak to us, or we will die" (Exodus 20:19). Moses tried to reassure the people and calm their fears, saying, "God has come only to test you and to put the fear of him upon you so that you do not sin" (v. 20), but the people remained at a distance. They let Moses walk between them and God.
The Lord said, "You shall not make gods of silver alongside me, nor shall you make for yourselves gods of gold" (EX20:23). This is a logical extension of the second commandment, "You shall not make for yourself an idol" (v. 4). But do the people remember it? Do they keep it? Or does it disappear as quickly as "The Year of the Bible"?
In today's passage of Scripture from Exodus 24, Moses climbs up Mount Sinai to be close to God. The Lord says to Moses, "Come up to me on the mountain, and wait there; and I will give you the tablets of stone, with the law and the commandment, which I have written for their instruction" (24:12 NRSV).
The glory of the Lord is like a devouring fire on the mountain, a fire surrounded by a thick cloud. Moses enters the cloud, and stays there for "forty days and forty nights" (vv. 17-18) — a very long time. Moses goes where no one has ever gone before, into the active and dangerous presence of Almighty God.
In Reagan's joke about the old Soviet Union, the Communist commissar says, "There is no God," but in today's passage, Moses has no doubts about God's existence. God is right there, alive and powerful, like a devouring fire on the mountain. God is real, and God is teaching Moses right from wrong. God gives him "two tables of testimony, tables of stone, written with the finger of God" (31:18). We might think of God as the doctor, and the doctor says, "Take two tablets. They are a powerful prescription for what ails us and what ails our society.
You know what the tablets say. We have read them this morning: No other gods, no idols, no misuse of God's name, remember the Sabbath, honor your parents, no murder, no adultery, no stealing, no false testimony, no coveting.
You might be wondering why Ten Commandments, why not 9 or 11? Comedian George Carlin says that ten sounds official and important. It's a psychologically satisfying number, such as in "The Top Ten," "The Ten Most Wanted," "The Ten Best Dressed." So, according to George Carlin, having Ten Commandments was really … a marketing decision. Right. If only it had worked. The number ten did not convince the Israelites to buy into the commandments.
In chapter 32 of Exodus, they gathered around Aaron, the older brother of Moses, and said to him, "Come, make gods for us, who shall go before us; as for this Moses, the man who brought us up out of the land of Egypt, we do not know what has become of him" (32:1).
Aaron complied with their request, and asked for donations of gold earrings. He melted the earrings down, made them into a golden calf, and announced, "These are your gods, O Israel, who brought you up out of the land of Egypt" (32:4). Aaron proclaimed a festival, and the people ate and drank and had a big party.
So it did not take long for the people to break the second commandment, "You shall not make for yourself an idol." When Moses approaches the camp and sees the golden calf and the dancing, he is so angry that he throws down the two tablets, shattering them into a thousand pieces. Then he burns the calf, grinds it into powder, mixes it with water, and makes the Israelites drink it (vv. 19-20). Talk about horse tablets. Ground gold must have been a bitter pill to swallow.
The people were punished, but eventually they got a new set of tablets from God, on which were written "the words of the covenant, the ten commandments" (34:1-28), and from that point on, the people struggled — as we do, every day — to keep these commandments, and be obedient to God.
So, what is the message of Moses on the mountain? Clearly, commandments are not going to be effective because there are ten of them, instead of nine or eleven. People are not going to read the Bible just because a president announces that 1983 is "The Year of the Bible;" and scaring people with thunder and lightning and smoke is not going to motivate them to do the right thing.
The message of Moses on the mountain is that we each need an experience of God — an encounter with the God who is alive and powerful and gracious and loving. We have to enter into God's presence, and spend time with God, as Moses did. Only then will we be able to take the two tablets, and really accept the Ten Commandments as a set of standards for faithful living.
Following commandments is not the same thing as being in relationship. When we have a close relationship with someone, we want to please that person and help that person not because we are commanded to do so, but because of our commitment to them. By the same token, when we love God, we keep his commandments not out of duty, but out of love.
In ancient times, going up a mountain was a way to draw near to God. As we move toward Easter, we should also draw nearer to God. We do not need more rules; we need closer contact with the Lord God Almighty.
What gets the people of Israel in trouble, what gets any people in trouble, is their faithless decision to stand at a distance from God. Moses goes on the mountain. They do not. Because they tremble and retreat from God, they stumble and begin to worship the golden calf.
They simply did not trust God. They saw God in all God's glory and majesty and assumed that such a God was unapproachable, that they would be consumed in the fury of God's fiery presence. So they stepped back, and when we step back from God, we step off a cliff.
Scripture invites us to do the opposite. Heb.10:22: "Let us draw near with a true heart in full assurance of faith." This is not necessarily easy. Moses had to step into the cloud to experience the reality of God's presence. That was a step of faith. That was, as Hebrews says, a "full assurance of faith." If we are to really meet God, it must always be on the basis of faith.
But it reassures us when we think about where Moses met God. He found God in the fog. Moses was in a fog for six days, but God was with him. For some of us, we feel like we are in a fog of confusion and turmoil. Events are chaotic. Nothing makes much sense. Where, we ask, is God? God is with us. Never forget that. God is with us.
In summary then, God's two tablets are good medicine, designed to help us, but we'll never understand this unless we enter the cloud and develop a relationship with the Lord. We can do this each Sunday in our service of worship. We can do this in quiet time at home, when we come into God's presence "and wait there," as Moses did.
Closeness to God is always better than distance, and love of the Lord is always a better motivator than fear; so let us move closer to God, discover how real God is, and let this reality begin to shape our lives. God wants to teach us right from wrong, and he has two tablets that can help us, but first we need to meet him on the mountain.

If you have questions or comments, email Tony Grant

Copyright 2000 York Associate Reformed Presbyterian Church
Last Modified: 01/14/12