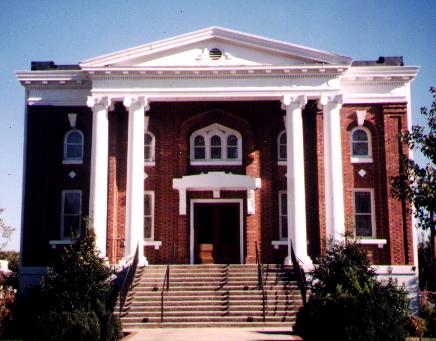 Kirk of Jesus Christ
May 3, 2009
Acts 4:5-12
5 The next day their rulers, elders, and scribes assembled in Jerusalem, 6 with Annas the high priest, Caiaphas, John, and Alexander, and all who were of the high-priestly family. 7 When they had made the prisoners stand in their midst, they inquired, 'By what power or by what name did you do this?' 8 Then Peter, filled with the Holy Spirit, said to them, 'Rulers of the people and elders, 9 if we are questioned today because of a good deed done to someone who was sick and are asked how this man has been healed, 10 let it be known to all of you, and to all the people of Israel, that this man is standing before you in good health by the name of Jesus Christ of Nazareth, whom you crucified, whom God raised from the dead. 11 This Jesus is "the stone that was rejected by you, the builders; it has become the cornerstone." 12 There is salvation in no one else, for there is no other name under heaven given among mortals by which we must be saved.'
For fans of Spock and Captain Kirk, the future begins on Friday. A new Star Trek movie hits the theaters this week, and, thrill of thrills, this is an origins movie; that is, it goes back to the time when James T. Kirk was a young man, enrolling at Starfleet Academy. Far from being the captain of the Enterprise, Kirk just barely makes it onto the starship for a journey into space. Then, when the ship's captain is forced to step down, it is Spock who is left in charge of the bridge — with Kirk as his assistant.
For die-hard Trekkies, this role reversal will take some getting-used-to. Still, the film promises to be a summer blockbuster. You will see all your favorite characters at the beginning of their careers: Scotty, Bones, Chekov, Uhura.
Now I confess that I am a fan. I have seen all the episodes of the original TV series created by Gene Roddenbury back in the sixties. Also there have been 4 other TV programs—Star Trek Next Generation, Star Trek Voyager, Star Trek Deep Space Nine, and Star Trek Enterprise. I have seen some episodes from all of them. And I have seen all the Star Trek movies—ten of them so far.
Star Trek is one of the most successful franchises in history. There are star trek cartoons, video games, books. One of the things I have always alike about the franchise is the idealism of the characters. They emphasize doing no harm, which is certainly a Christian view and they have a positive outlook. Things can get better. Progress is possible. I look forward to the movie on Friday—the familiar characters, the close-knit community, the sense of idealism and adventure, the desire to "boldly go where no one has gone before."
Star Trek is good science fiction, but it is kind of like the Acts of the Apostles. This New Testament book contains stories from the earliest days of the church, with the well-known characters Peter, John, Stephen, Paul, Philip and Lydia. It's a book of origins, including the events that launch the greatest spiritual adventure of all time.
In Acts 4, the future begins with a showdown between the apostles and the Jewish council in Jerusalem. This text marks the first break from Judaism for these early Christians. Peter and John have just healed a lame man "in the name of Jesus Christ of Nazareth" (3:6), and have begun to preach about the resurrection (4:2). The leaders of Jerusalem arrest them and put them in custody, and then drag them before the council. The Jewish leaders feel threatened by the healing and preaching done by Peter and John, so they ask them, "By what power or by what name did you do this?" (v. 7). Apparently they do not know exactly what they are dealing with here.
"Rulers of the people and elders," says Peter, after being filled with the Holy Spirit, "if we are questioned today because of a good deed done to someone who was sick and are asked how this man has been healed, let it be known to all of you, and to all the people of Israel, that this man is standing before you in good health by the name of Jesus Christ of Nazareth, whom you crucified, whom God raised from the dead" (vv. 8-10). Peter boldly goes where no one has gone before — proclaiming the healing and saving power of Jesus.
Peter makes clear that he and his fellow apostles are on a mission to heal, not to hurt. He begins by talking about the "good deed done to someone who was sick." Then he speaks the truth, saying that "this man is standing before you in good health by the name of Jesus Christ of Nazareth." Peter does not hide the source of his power. It is not about Peter. It is about Jesus.
Then Peter reminds the Jewish leaders that they are responsible for Jesus' death, but he does this in a way that shows them a new path. "This Jesus is 'the stone that was rejected by you, the builders,'" says Peter, "'it has become the cornerstone.' There is salvation in no one else, for there is no other name under heaven given among mortals by which we must be saved" (v. 12). Peter corrects the Jewish leaders without condemning them. Instead, he gives them a way to turn themselves around, and begin to follow Jesus. This is a lesson to us. This is what we should be doing—giving people a way to accept Jesus as the foundation of their lives.
A cornerstone is the stone laid at the intersection of two walls. It is the first stone laid and consequently is the foundation for all the other stones used to construct a building. The image of the cornerstone is used several times in the Bible to describe Christ. The building in this case is the church. The foundation of the church is the Lord Jesus Christ. If a person wants to be a part of this building they should place their lives upon the foundation Stone, Christ Himself. But Peter says the cornerstone was rejected, by those who were supposed to be builders, that is by the authorities, by the establishement.
They did not want it. It did not fit in with their plans. They wanted to do their own thing. Therefore, they cast the Stone of God aside. But Peter says, "There is salvation in no one else." This stone has been chosen of God. Upon this stone, God has built his church. This is a building that will last forever. It will never deteriorate or waste away.
When we build any building, the cornerstone is the first stone laid. It is the preeminent stone in position and power. So it is with Christ. He is the support and power of his people. Hebrew speaks of Christ as the captain of our salvation (Hebrews 2:10) All others are crew members who follow Him. Christ is the Head cornerstone, the only true foundation upon which we can build. All crumble who are not laid upon Him. "For no one can lay any foundation other than the one that has been laid; that foundation is Jesus Christ" (1 Cor. 3:11).
Therefore, when we believe on him, when we believe on Jesus, we are part of his building. We belong to his church. We are members of his house. The house of Christ includes all believers. In the Apostle's Creed, we say that we believe in the "Holy Catholic Church." The church is holy not because the people are that good, because we are not. We are sinners. The church is holy because Christ gave his spirit to the church and that Holy Spirit makes the church holy. The church is catholic in the exact dictionary definition of that term. The word "catholic" means "universal." The church is open to all believers, without regard to race or gender or nationality. Now I know that some folks think that the word "catholic" applies to the Roman Catholic denomination. Not so. It refers to all believers regardless of denomination. Everyone who believes in the Cornerstone has a place in God's house, and we are all connected together through that same Cornerstone. There is a place for every believe and there is a place for you and me, and our part is to do all that we can to strengthen the building. We are to help each other achieve our destiny in Christ.
To some extent Star Trek had it right. We are not to do harm to each other. Jim Kirk's "mission was to explore the final frontier, not to conquer it," writes Ronald Moore in The New York Times (September 18, 2006). "Week after week, he confronted the specters of intolerance and injustice, and week after week found a way to defeat them without ever becoming them. Jim Kirk may have beat up his share of bad guys, but you could never imagine him torturing them."
Now I know that Captain Kirk is fiction and the Apostle Peter is real but both were on a mission to help others. They spoke the truth, and were honest about their beliefs. They corrected people without condemning them, and always gave others a way to turn themselves around.
It may seem strange that I am offering Captain James T. Kirk as a model for Christian living, but perhaps we should remember that his last name is Kirk which is the old Scottish word for "church." To this day in Scotland, the Church of Scotland is called simply "the kirk," and the governing body of a local church is called the "kirk session."
So what does Captain James Tiberias Kirk have to say to the kirk, to the church. He has a message of healing and hope. He urges us to reach out with a sense of idealism and adventure, and boldly go where no one has gone before?
We have to begin with a desire to heal, not to hurt. This means doing good to people who are sick, hungry, homeless, abused, neglected. Donald Miller tells the story of a friend of his named Andrew, who feeds the homeless on Saturday mornings. He sets up a portable kitchen on a sidewalk and makes breakfast for people who live on the streets. He serves coffee to his homeless friends, and talks with them and sometimes prays with them. "All great Christian leaders are simple thinkers," concludes Miller. "They actually believe that when Jesus says feed the poor, he means you should do this directly. Andrew is the one who taught me that what I believe is not what I say I believe; what I believe is what I do."
That is a striking line. What we believe is what we do. Feed the hungry. House the homeless. Heal the sick. Actions do speak louder than words.
But it is important to be clear about the source of our motivation--Jesus Christ of Nazareth. We're not free-lance do-gooders, or independent charitable contractors. Instead, we're ambassadors of Christ, and apart from him we can do nothing of any lasting good. It's so important for us to speak the truth about the source of our power, and be honest with others about our reliance on Jesus. Our effectiveness comes from our connection to Christ, and this is nothing to cover up or feel embarrassed about disclosing. We should be as bold as Peter in proclaiming, "[L]et it be known to all of you, and to all the people of Israel, that this man is standing before you in good health by the name of Jesus Christ of Nazareth" (v. 10).
Finally, we are challenged to correct our opponents without condemning them, and to present the truths of our faith in a clear and compelling way. Peter concludes his speech to the council with the words, "There is salvation in no one else, for there is no other name under heaven given among mortals by which we must be saved" (v. 12). Now these are strong words that may seem overpowering to some, but there is a meaning in the original Greek that is lost in translation. The word for "saved" at the very end of this verse can also be translated "healed." So what Peter is saying is that there's no other name under heaven by which we can be healed.
In any case, every one of us needs healing of some kind — physical, mental, emotional, relational or spiritual healing. All of us are broken in some way, and all of us want our shattered pieces to be put back together — body, mind and spirit. The offer of healing is one that can be made without condemning people or putting them on the defensive, especially when it is done with love and clear concern for their welfare. When we present the truths of our faith, we should do it in a way that carries with it the promise of healing and hope and abundant life — after all, Jesus came so that everyone could be healed and made whole. That is the central message of the Kirk of Jesus Christ. Amen.
Sources:
Child, Ben. "Star Trek: How 20 minutes of early footage engaged my warp drive." The Guardian, November 11, 2008. guardian.co.uk.
Jensen, Jeff. "Star Trek: New movie, new vision." Entertainment Weekly, October 24, 2008. ew.com.
Miller, Donald. Blue Like Jazz: Nonreligious Thoughts on Christian Spirituality. Nashville: Thomas Nelson, Inc., 2003.Moore, Ronald D. "Mr. Universe." September 18, 2006. nytimes.com.

If you have questions or comments, email Tony Grant

Copyright 2000 York Associate Reformed Presbyterian Church
Last Modified: 02/02/13