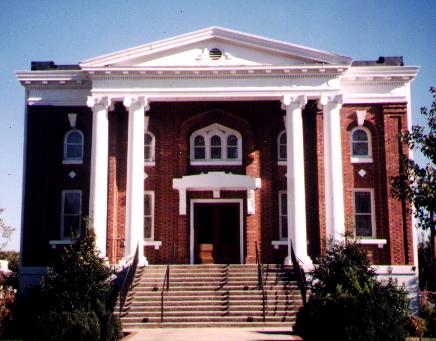 SECOND SABBATH AFTER EPIPHANY
11:00 a.m. January 14, 2007
Assemble in God's Name
Organ Prelude:
Choral Introit:
Welcome
Concerns of the Church
s Passing the Peace
s Bible Songs: "God The Righteous Judge" #12
Lighting the Candles
Call to Worship (Psalm 7:1)
Leader: The Lord be with you.
People: And with you also
Leader: O Lord my God, in thee do I put my trust.
People: Save me from all them that persecute me, and deliver me:
Opening Prayer
Salt and Light--Matthew 5:13-16
(in Unison)
13 "You are the salt of the earth; but if salt has lost its taste, how can its saltiness be restored? It is no longer good for anything, but is thrown out and trampled under foot.
14 "You are the light of the world. A city built on a hill cannot be hid.
15 No one after lighting a lamp puts it under the bushel basket, but on the lampstand, and it gives light to all in the house.
16 In the same way, let your light shine before others, so that they may see your good works and give glory to your Father in heaven.
s Hymnbook: "Morning Has Broken" #464
s Gloria Patri #546
Presentation of Tithes and Offerings
Offertory
s Doxology #544
Proclaim God's Word
Ordination and Installation of Deacons
Children's Sermon
Dismissal to Children's Church (5 and Under)
Anthem
Second Reading: I Corinthians 12:4-11
Sermon: "NORA"
Go in God's Name
s The Apostles' Creed
s Prayer of Thanksgiving
s The Lord's Prayer
s Hymnbook: "Sing Then Over Again to Me " #265
s Extinguishing the Candles
s Charge and Blessing
Postlude:
s: all who are able, please stand.
On this second Sabbath after the Epiphany, we extend a welcome to all who have come to praise our Creator. We are sincerely happy that you have come.
Bible Study: Wednesday, 10:00 a.m. and 7:00 p.m.
The Session and the Diaconate will meet jointly tonight at 7:00 p.m.
Men's Fellowship Breakfast: Next Sabbath, January 21, 8:00 p.m.
We would like to thank the congregation for your prayers, visits, and thoughts following the death of Sara Frances Clark, mother and grandmother, on December 31. We appreciate your support and ask for your prayers.
Judy, Mark, Kim, Jennifer, and Andrew
The following will be ordained and installed as deacons today: Andrew Rollins, Gail Atchley, and Mark Love. The following, having already been ordained, will be reinstalled as deacons today: Frances Nivens, Newton Wells, and Martin Grant.

If you have questions or comments, email Tony Grant

Copyright 2000 York Associate Reformed Presbyterian Church
Last Modified: 01/23/08