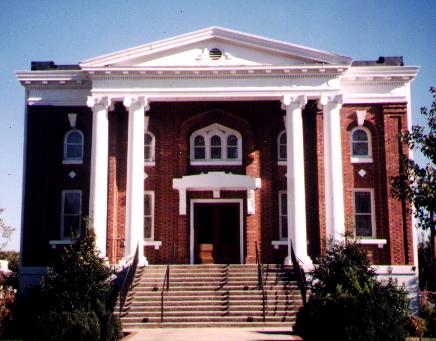 Return to Bulletin Page
SECOND SABBATH AFTER EPIPHANY
11:00 a.m. January 16, 2005
Assemble in God's Name
Organ Prelude:
Choral Introit:
Concerns of the Church
s Passing the Peace
s Hymnbook: "For the Beauty of the Earth" #2
Lighting the Candles
Call to Worship (Shorter Catechism Q. 100)
Leader: The Lord be with you.
People: And with you also
Leader: What does the preface of the Lord's Prayer teach us?
People: The preface of the Lord's prayer, which is, "Our Father which art in heaven," teaches us to draw near to God with all holy reverence and confidence, as children to a father, able and ready to help us; and that we should pray with and for others.
Prayer of Confession (In Unison)
ALMIGHTY and most merciful Father; We have erred, and strayed from thy ways like lost sheep. We have followed too much the devices and desires of our own hearts. We have offended against thy holy laws. We have left undone those things, which we ought to have done; And we have done those things, which we ought not to have done; And there is no health in us. But thou, O Lord, have mercy upon us, miserable offenders. Spare thou those, O God, who confess their faults. Restore thou those who are penitent; According to thy promises declared unto mankind In Christ Jesus our Lord. And grant, O most merciful Father, for his sake; That we may hereafter live a godly, righteous, and sober life, To the glory of thy holy Name. Amen.
Declaration of Forgiveness
Leader: Who is to condemn? It is Christ Jesus, who died, yes, who was raised, who is at the right hand of God, who indeed intercedes for us. (Rom 8:34)
People: So if anyone is in Christ, there is a new creation: everything old has passed away; see, everything has become new! (II Cor. 5:17)
s Gloria Patri: #546
Presentation of Tithes and Offerings
Offertory
s Doxology #544
Proclaim God's Word
Children's Sermon
Dismissal to Children's Church (5 and Under)
s First Scripture Lesson: Psalm 5:1-8, 11-12
s Hymbook: Hear My Words, O Gracious Lord" #48"
Second Scripture Lesson: Philippians 4:4-7
Anthem:
Sermon: "Worry-Free Living"
Go in God's Name
s The Apostles' Creed
s Prayer of Thanksgiving
s The Lord's Prayer
s Hymnbook: "Rejoice, Ye Pure in Heart"…#407
s Extinguishing the Candles
s Charge and Blessing
Postlude:
s: All who are able, please stand.
"Souper Bowl" Sabbath
Plan to attend our fourth annual "Souper Bowl" Sabbath "Covered Pot" lunch, following Morning Worship on February 6. Please bring a favorite soup and/or plate of sandwiches to share. We will receive a "Souper Bowl" offering. This offering will go to victims of the Asian Tsunami. The York ARP Foundation will match this offering.
Bible Study, Wednesday, 10:00 a.m. and 7:00 p.m.
Officer Training
Training for officers, both Elders and Deacons, will be offered by General Synod on Friday, February 11, from 6:30-9:30 p.m. at Smyrna ARP Church (Supper will be served) and on Saturday, February 12, from 8:00-11:30 a.m. at Bethany ARP Church (Breakfast will be served). We strongly urge all officers to attend at least one of these sessions.
Juanita Harris had surgery on Tuesday. Please remember Juanita and all our sick and shut-ins in your prayers.
Psalm 5:1-8, 11-12
1 Give ear to my words, O LORD, consider my meditation.
2 Hearken unto the voice of my cry, my King, and my God: for unto thee will I pray.
3 My voice shalt thou hear in the morning, O LORD; in the morning will I direct my prayer unto thee, and will look up.
4 For thou art not a God that hath pleasure in wickedness: neither shall evil dwell with thee.
5 The foolish shall not stand in thy sight: thou hatest all workers of iniquity.
6 Thou shalt destroy them that speak lies: the LORD will abhor the bloody and deceitful man.
7 But as for me, I will come into thy house in the multitude of thy mercy: and in thy fear will I worship toward thy holy temple.
8 Lead me, O LORD, in thy righteousness because of mine enemies; make thy way straight before my face.
11 Let all those that put their trust in thee rejoice: let them ever shout for joy, because thou defendest them: let them also that love thy name be joyful in thee.
12 For thou, LORD, wilt bless the righteous; with favour wilt thou compass him as with a shield.

If you have questions or comments, email Tony Grant

Copyright 2000 York Associate Reformed Presbyterian Church
Last modified 03/07/05