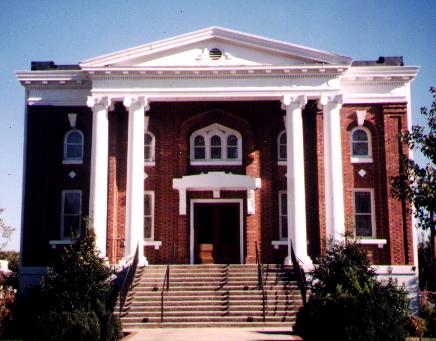 Hope
11/20/11
Romans 15:13
"May the God of hope fill you with all joy and peace in believing, so that by the power of the Holy Spirit you may abound in hope."
Albert Einstein said, "Learn from yesterday, live for today, hope for tomorrow." That is good advice.
Jerry Lee Lewis has a song about life. The chorus goes like this:
She knows life has its little ups and downs like ponies on a merry go round
And no one grabs a brass ring every time but she don't mind she don't mind
She wears a gold ring on her finger and it's mine
The song is about a husband and wife facing the "ups and downs" of life.
Actually, Frank Sinatra had a similar song called "That's Life." The chorus was:
I've been a puppet, a pauper, a pirate,
A poet, a pawn and a king.
I've been up and down and over and out
And I know one thing:
Each time I find myself laying flat on my face,
I just pick myself up and get back in the race.
Life has its peaks and valleys, but Sinatra's song still has hope. Someone has said that a person can live about forty days without food, about three days without water, about eight minutes without air, but only one second without hope. So what are you thankful for this thanksgiving? I am thankful for hope. I am thankful that God never gives up on us. That is the ultimate hope.
Let us look at it scientifically if you like. According to our science, the earth is about 4.5 billion year old. The first simple living cells appeared approximately 3.8 billion years ago. Multicellular life appeared about 1 billion years ago. Simple animals appeared about 600 million years ago. Land plants are around by 475 million years old. 300 million years ago, reptiles appear, 200 million years ago mammals, 150 million years ago, birds, 130 million years, flowers. 65 million years ago, the dinosaurs died out; 200,000 years ago, we start to find human beings who look like us. So, what is my point? God has been working 4.5 billion years on this planet to get to us. Having worked that long, do you think that God is ever going to quit on us. Never. And also you know that God has worked that long for a purpose. The purpose is our future, our hope.
In the OT, Jeremiah is called the prophet of doom and lamentation, but not always. Jeremiah 29:11: "For I know the plans I have for you, declares the LORD, plans for welfare and not for evil, to give you a future and a hope." Jeremiah lived in the sixth century B.C. and witnessed the brutal conquest of Jerusalem in 587 B.C. by the Babylonians. Many of the survivors were then taken into captivity and marched hundreds of miles to Babylon. The terrain they marched over had its peaks and valleys, but I imagine that for those Jews it was a downer all the way. This is where Jeremiah comes in with uplifting words. The valley you are in right now will not last forever. God is with you and will see you through. Jeremiah writes that God has plans for them, plans of prosperity and not disaster, plans for a future. Jeremiah gives them hope.
Let us talk about this word hope. Oscar Wilde said, "We are all in the gutter, but some of us are looking at the stars." That is a pretty good definition of hope. Hope is usually defined as an emotional state based on belief in a positive outcome to events. It is an expectation of a good solution.
Hope is not based on evidence or reason. Reason may say that our loved one is not going to get better. We still hope. Hopeful people are like "The Little Engine That Could." Do you remember that children's story. Maybe it is a good story for adults. There was a long line of freight cars that needed to be taken over a hill, but all the other engines said, "It can't be done, it can't be done." The little blue engine said, "I think I can," and put itself in front of the great heavy train. As it went on the little engine kept bravely puffing faster and faster, "I think I can, I think I can, I think I can." When it reached the top of the hill and started down the grade, the engine said, "I thought I could, I thought I could." That is hope fulfilled.
Hope is closely linked to faith. One definition says, "Hope is faith holding out its hand in the dark." Hope is one of the three characteristics of the Christian life. The other two are faith and love. However, faith is so entangled with hope that often the two are much the same.
For Christians, hope is a future certainty grounded in a present reality. The present reality is the faithfulness of God. God's faithfulness is marked out by major landmarks (promises God has kept) in his involvement with his people. This is an involvement God will not renounce on behalf of a people God will not abandon. One such landmark is Israel's release from bondage in Egypt and its deliverance at the Red Sea. When Joshua crossed the river Jordan and led the people into the promised land, that was another landmark. The landmark that towers over others, however, and gathers them up into itself, is the resurrection of Jesus Christ from the dead. Here all the promises of God find their fulfillment. God promises to complete the entire creation in Christ. This is the Christian hope.
In fact, the mark of the Christian is hope, and the mark of the Christian God is hope. In Romans 15:13, the apostle Paul describes God as "the God of hope." and he describes believers as a people who "abound in hope."
You can see then why many theologians and commentators have described despair or hopelessness as the unforgivable sin.
Faith is faith in the God who will not abandon his creation so much as a nano-second before he has completed his task—which is a new heaven and a new earth at the end of the age. This is the God we believe in—the creator God who achieves his final purpose in a glorious future. Paul writes a word of encouragement to the Christians in Philippi, "I am sure that he who began a good work in you will bring it to completion at the day of Jesus Christ" (Phil. 1:6). God has begun a good work in us.
We know what the apostle means. We like to fend off our critics humorously, "Be patient. God isn't finished with me yet." Not only has God not finished with us yet, God has scarcely begun with us, and he has a long way to go. We are not even close to being ready for the return of Christ, but we have this hope. That he who began a good work in us is going to complete it. Moreover, he who began a good work in the universe is going to complete that also.
Thus, we continue in hope. How can we do otherwise? Apart from hope we give up, quit—quit working, quit struggling, quit sacrificing, quit living, simply quit. Paul urges the Christians in Corinth, "Be steadfast, immovable, always abounding in the Lord, knowing that in the Lord your labor is not in vain" (1 Cor. 15:57-58). Is your work in vain? Is mine? Never. Our work in the Lord can never be in vain.
In Romans 8:24, Paul writes, "For in this hope we were saved. Now hope that is seen is not hope. For who hopes for what he sees?" Hope is genuine only when what is hoped for is not seen. In the next verse, the apostle reminds the Roman Christians that patience is part of hope. Christians are patient in hope even though there may be no evidence for our hope. The ground of our hope is not evidence; it is always and everywhere the faithfulness of God. With that kind of hope, derived from trust in God, we never give up, never quit.
If I asked you to name the most dangerous person in any society, what kind of person would come to mind? The psychopath? Not really because, thank God, there are not many psychopaths around. The most dangerous person in a society is not the murderer, the molester, or the lunatic. It is the cynic, the skeptic, the doubter, the pessimist, the scoffer. The cynic is forever sneering, "What's the use? Why bother?" The scoffer's noxious breath is breathed out everywhere. Unlike the breath of God that turned dust into life, the cynic's breath turns life into dust. The cynic claims victories here, there and everywhere. The cynic's victories, of course, are actually victims, victims who have now become pessimists and scoffers themselves. They say, "What's the use?" and abandon a world that God never abandons.
Some damage the environment, God's creation, but the worst damage by far is that done by pessimists and put-downers whose cynicism impedes the purpose of creation. We all need to understand this: the worst fate for a person is to lose hope.
Victor Frankl was a Viennese psychiatrist and as holacoust survivor. His book is entitled, From Deathcamp To Existentialism. He tells of his life in Nazi concentration camps during World War II. For those prisoners in those death camps, it was awful--rats, freezing weather and freezing rain, and freezing fingers and freezing toes, freezing warehouses and freezing outhouses, and beatings from the guards. The only hope for the prisoners was the arrival of the Allied armies. For some unknown reason, that hope became connected with Christmas. The prisoners in one particular camp started to believe that freedom was going to come on Christmas. Therefore, these prisoners clung to life. They struggled with their freezing feet, freezing toes, and freezing hands. They struggled with their frost bitten bodies. Because they had hope. They were waiting for Christmas. They were waiting for freedom. They were waiting for release. Finally, Christmas Day came, but no Allied armies came. There was no release. There was no freedom. Immediately, in the days after Christmas, the prisoners began to lose hope. A man committed suicide, then another, and another. Soon, people were sleeping through meals and sleeping through exercises, just slipping off into death. By New Year's Eve, many from this camp had died. Six months later, when the Allied forces finally did come to bring freedom to this concentration camp, half of the prisoners had died. Most them died after Christmas Day. They died because they lost hope. As long as they had hope they could tough it out in the worst conditions, but without hope they gave up and died.
Romans says that God is the source of hope, and your faith is the means by which you will be filled with hope. So never give up. Trust in God's future. Faith means to trust in God here and now; but hope means to trust in God's future, to realize that God is in control of all of future history and God is in control of your personal future. Faith realizes that God will not desert us in the decades, the centuries and the millenniums ahead of us, that whether our future means death or divorce, separation, moving or joblessness, or whether our future means marriage, babies, new homes and new jobs, no matter what, our future belongs to God, and God, in his power and purpose, will not desert us.
Let me give you examples of people who have a passionate hope for the future. My first example is Dr. Bill Foege. He is a physician who graduated from Pacific Lutheran University and he was head of the Center for Disease Control in Atlanta. Dr. Bill Foege and his partners agreed that they were going to erase small pox from the face of the earth. Small pox had been a deadly scourge upon humankind for centuries.. They had a driving hope to do something good, and they would not quit. They would not give up. They persisted, and today, there is no small pox anywhere. Because certain people had a passionate hope, a driving hope. They believed in the future without small pox.
Take another example. Anne Sullivan had a driving hope that a young girl by the name of Helen Keller who was deaf and blind would be able to read, write and communicate. Anne Sullivan had a driving hope to take this little monster of a girl, this little spoiled brat, and teach her to read and write. Helen Keller was an undisciplined little brat but Anne Sullivan was going to teach her how to communicate. Anne Sullivan did not give up hope. She did not quit. She did not say, "This is an impossible job. This is an impossible task." No, not at all. Now, Helen Keller has become a legend, but I am thinking that Ann Sullivan ought also to be a legend of hope and determination.
Every Christian ought to be such a legend. We Christians have a driving hope. We have a living hope. We have a hope for God's reign of justice, love and peace for the whole universe. We also have a hope for God's reign of justice, love and peace in my little personal world.
We Christians are people who have hope, hope for this world but also hope for the next world. We have a sure and certain hope of eternal life.
This hope is not a little aside in our faith. It is the absolute foundation of our faith. When Christ was born in Bethlehem, the Jewish people were living in expectation of the coming of the Messiah who would bring about the end of the age and the kingdom of God. The Jews thought in terms of their tribe and their nation. Jesus of Nazareth was indeed the Jewish Messiah, but he expanded the concept of the messiah to a worldwide scale. He came to save people of every nation, every tribe, and thus he came to prepare the way for the kingdom for all God's people.
We look forward to the fulfillment of the Kingdom of God at the end of time. The Gospels speak of it and the Epistles of Paul, and the book of Revelation, as well as the early Fathers of the Church. This is the great hope. The kingdom of God, the New Jerusalem.

If you have questions or comments, email Tony Grant

Copyright 2013 York Associate Reformed Presbyterian Church
Last Modified: 05/02/13