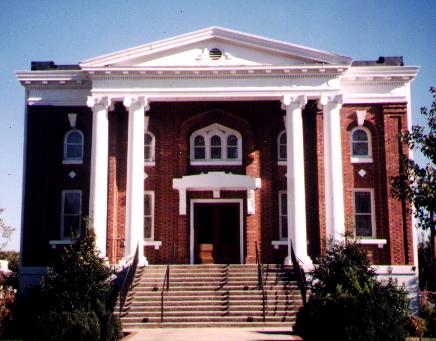 Hope of Advent
12/05/10
I John 5:11-12
11 And this is the record, that God hath given to us eternal life, and this life is in his Son.
12 He that hath the Son hath life; and he that hath not the Son of God hath not life.
Years ago, a wealthy man shared a passion for art collecting with his devoted son. Together they traveled around the world, adding only the finest art treasures to their collection. Priceless works by Picasso, Van Gogh, Monet, and many others adorned the walls of the family estate. It was the great satisfaction of the father that his son was increasingly recognized as one of the leading art critics and collectors of the day. But war engulfed the nation, and the young man left to serve his country. After only a few short weeks, his father received a telegram that his beloved son was dead. He had been killed while carrying a fellow soldier from the battlefield.
On Christmas morning, a knock came at the door of the old man's home, and as he opened the door, he saw a soldier with a large package in his hand. The soldier introduced himself saying, "I was a friend of your son. I was the one he was rescuing when he died. May I come in for a few moments? I have something to show you." Upon being received into the house, the soldier said, "I am an artist, and I want to give you this." He extended the package to the old man. As the man unwrapped the package, He saw a portrait of his son. Now this soldier was not a great artist. No one would ever pay tons of money for his works, but he did have some talent for portrait painting, and this painting featured the dead son's face in striking detail, and seemed to capture his personality.
The following spring, the old man became ill and passed away. According to his will, his entire collection was to be auctioned off. The art world trembled in anticipation. The big day soon arrived, and art collectors from around the world gathered to bid on some of the world's most famous paintings. The auction began with a painting that was not on any museum's list. It was the painting of the old man's son. The auctioneer asked for an opening bid. The room was silent. "Who will open the bidding with $100?" he asked. Seconds ticked by but no one made an offer. From the back of the room, someone callously called out, "Who cares about that painting? It is just a picture of his son. Let's forget it and go on to the important paintings." Other voices echoed agreement. But the auctioneer replied, "No, we must sell this one first. Now, what am I bid?" Finally, a friend of the old man spoke. "I knew the boy," she said. "I would like to have it. I will bid $100." The auctioneer took up his cant, "I have a bid for $100. Will anyone go higher? Do I hear $200?" He was greeted by a long silence, and finally he said, "Going once. Going twice. Gone." The gavel fell. Cheers filled the room and someone was heard to say, "Now we can get on with it." However, the auctioneer announced the auction was over. Stunned disbelief quieted the room. Someone asked, "What do you mean it is over? We did not come here for a picture of some old guy's son. What about these paintings? There are millions of dollars worth of art here. We demand that you explain what is going on!" The auctioneer replied, "It is very simple. According to the will of the father, whoever takes the son...gets it all."
That is the gospel: Whoever takes the Son gets it all. That is what our two verses from 1 John 5 tell us. V11 says this is what God has promised. This is God's record or testimony--that he gave us eternal life. This is a gift of God. God gave us life everlasting, and this everlasting life is "in the son." We wonder what that means exactly, but John seems to want to explain it to us. He goes on in v12 to say, "Whoever has the Son has life; whoever does not have the Son of God does not have life." John is saying, whoever has the Son has it all, but exactly what is included in the "all"?
Well there are several things and those several things constitute the hope of Advent. The first thing is that we now know more about God. The coming of Christ gave us a living picture of God.
That reminds me. We have put up our Christmas decorations at the manse and set up a nativity scene for the holidays, and our granddaughter Gracie came over about a week ago. She looked at the nativity scene and said, "Where is God?" Beth pointed at a little baby in the manger and said, "That is baby Jesus." Gracie asked again, "Where is God?" Again, Beth said, "Right there, that is the baby Jesus." Gracie looked at the little porcelain baby and said in utter disbelief, "That is God?" It was like she was saying, "You can believe that if you want to Nana, but I do not think so." Now you must realize that Gracie is four years old, and 4-year-old kids are literal-minded. If you say, "Jesus is coming," they think you mean now. They turn around and look at the door expecting Jesus to come through the door. If you say to a 4-year-old that a tiny porcelain baby in a tiny porcelain manger is God, she thinks you mean that porcelain figure is literally God—which of course was not what Beth meant at all. She meant that it was a symbol, that it represents Jesus who was God incarnate.
The nativity scenes we see all over the place at this time of year are symbols of the birth of Jesus, but Jesus himself was not a symbol. He was literally God come among us. In the NT, Colossians says, "He is the image of the invisible God, the firstborn of all creation" (1:15). This is what we mean by the incarnation. In some mysterious way, God was in Jesus. In the gospels, the disciples never quite worked this out, and we should not blame them because this is the kind of thing that it is not possible for a human being to work out. However, the disciples did realize that there was something of God about Jesus. That is why they followed him. That is why we should follow him.
Imagine what the world would be like if the babe of Bethlehem had never been born. Harvard and Yale would not exist, because they began as Christian institutions of higher learning. The founders of these schools believed that to study "science" was to study the work of God. Many hospitals across the USA would not exist, because the people who founded those hospitals believed in Jesus, were transformed by his love, and had hearts full of compassion for those who are suffering. Our way of dating history would be different--all of history is divided into BC and AD—before Christ and after Christ. There would not be churches on every corner of York. There would be no YMCA. Our Bible would end with Malachi and we would not know how much God loves us and cares for us. That is bleak.
Without Jesus, Mary Magdalene died in her sin. Matthew remained a traitor to his country. Peter, Andrew, James, and John spent the rest of their lives fishing on the Sea of Galilee. Paul remained a cruel Pharisee steeped in legalism with an unrelenting demand for perfection from other people. The people who needed healing, during the time of Christ, would still have been broken in body and spirit. The lame would still have been lame; the blind would have remained in their darkness; the deaf would have still lived in silence. We would never have heard the comforting words of John 14 where Jesus says, "Peace I leave with you; my peace I give to you. Not as the world gives do I give to you. Let not your hearts be troubled, neither let them be afraid" (John 14:27 ESV).
This is why we sing about Emmanuel at Christmas — God is with us. He was with us 2000 years ago, and he is with us now in this present moment to show us what God is like. We have a God who cared enough to come. He showed us that all he did was about love. He was the friend of sinners and failures. He showed love and compassion to the outcasts of the world. He healed the sick and raised the dead. He taught us not to use the values of this world to determine our own worth, for he said, "The last will be first, and the first will be last" (Matthew 20:16).
Have you seen the PBS series "Antiques Roadshow?" Like most everything else on PBS, it originated in Britain, but PBS has been broadcasting it in the US since 1997. It has been something of a success, so much so that there is a spin-off entitled "Antiques Roadshow FYI." The hook that motives people to watch the show is the thought that someone paid a few dollars for an item at a yard sale, or they inherited a vase from aunt so and so and they go to the appraisers asking for an evaluation. Then comes the look of surprise and shock when they learn the vase is worth several thousand dollars. You might be interested to know that the record for the show is four pieces of Chinese carved jade and celadon dating to the reign of the Qianlong emperor (1736–1795), including a large bowl crafted for the Emperor. The appraisal was slightly over a million dollars. The bad news was that at the actual auction, the items sold for only $494,615. Only half a million dollars. Wow, that was still some valuable jade.
The world thinks of people as garbage that might be sold for next to nothing at a yard sale. But God appraises us differently. God sets a high value on people and God pays according to his appraisal. How do we know that? Because we see it in the life of Jesus over and over again. The outcasts of society seemed to be his specialty. The sinful and sick, the poor and weak were the people he pulled out of the trash and transformed into a treasure. If Jesus had not come, we would never have known that about God.
We would never have known that our sins can be forgiven. Think of what it would be like if Jesus had not come. We would be trapped in our sins. What would that be like? Our guilt would never be relieved; our condemnation would always be hanging over our heads. If Jesus had never come, there would be no talk of forgiveness and reconciliation to God. Grace would not be a word in our vocabulary. We would talk about justice, and people getting what they deserved, rather than finding mercy with God. If Jesus had never come, the woman caught in adultery would never have heard the words: "Neither do I condemn you. Go now and sin no more" (John 8:11).
But since Jesus came, forgiveness came. We are free. We can forgive ourselves and others because we have experienced that liberating forgiveness that is the gift of Jesus. The Bible says, "How great is the love the Father has lavished on us, that we should be called children of God! And that is what we are!" (1 John 3:1). We are children of God. Through Christ, we are adopted into the family of God. Through Christ, we are made clean and treated as God's righteous people.
That is the hope of Advent. Ultimately, it is the hope of heaven. Jesus made Heaven possible. Think about what the world would feel like if there was no hope of heaven. What would you say at the funeral of a loved one if Jesus had not come? We would have no hope beyond the grave. We could not talk about life with God, only about death and darkness.
The Apostle Paul says in I Corinthians, "If in Christ we have hope in this life only, we are of all people most to be pitied" (1 Corinthians 15:19). If Christ had not come, we would have no hope for a Savior who would overcome the world and open heaven for us. We would have no hope of a resurrection, no hope of eternal life. There would be nothing except the closing of the casket lid and the coldness of the grave. But because Jesus came, all that has changed. We live in joyful anticipation of what is yet to come.
In his book Dare to Believe (Published 1977), J. Daniel Baumann illustrates what it is like to know that something is yours even though you have to wait for it. You may even have it in hand, but you are not able to enjoy it "out of the box." He says that when he was young he always did a lot of snooping at Christmas time, trying to find his gift and figure out what was in the wrapped packages, which his mom hid. One year he discovered a large package with his name on it that he knew was a set of golf clubs. One shake of that box revealed the unmistakable sound of clubs. He says, "When Mom wasn't around, I would go and feel the package, shake it, and pretend that I was on the golf course. The point is, I was already enjoying the pleasures of a future event; namely, the set of clubs. It had my name on it. I knew what it was." Baumann already claimed possession of those golf clubs. They were his, but they would not be handed over to him until Christmas morning. Then he would see with his eyes what before he had only seen with his heart.
Christmas means that Christ has given us the gift of heaven. At this point, it is still wrapped. But the package has our name on it. We know what awaits us. It is ours. But we do not have it yet. But we will. That is the hope of advent.

If you have questions or comments, email Tony Grant

Copyright 2013 York Associate Reformed Presbyterian Church
Last Modified: 05/02/13