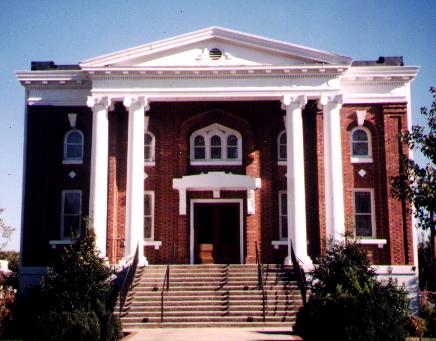 Holy Ghost Power
05/23/10
I Corinthians 12:1
"Now concerning spiritual gifts, brethren, I would not have you ignorant.
The Apostle is a 1997 movie written and directed by Robert Duvall, who also stars in the title role as a married Pentecostal preacher with a wandering eye.
After the movie came out, Duvall wrote an essay for Newsweek magazine. ("The 'Apostle' Speaks: Playing A Southern Preacher Helped Me Understand The Meaning Of Holy Ghost Power," By Robert Duvall, Newsweek, Apr 13, 1998).
He wrote, "Filmmakers hardly ever depict spirituality with such a strong emphasis on the Holy Spirit, and when they do, it tends to be patronizing--full of charlatans and snake handlers." However, that was not Duvall's purpose in the movie. He goes on to say, "What I really wanted to do was try to understand what these preachers go through and what they believe, and to portray it in an accurate way."
Duvall then described his 15-year struggle to get the movie made. No major Hollywood studio would back him. They just were not interested in making a film about Holy Ghost Power. Finally, Robert Duvall financed the film himself, and that was not necessarily bad. He said, "It turned out that I probably made a better film because no one would touch it back then. I never would have had the wonderful scenes in the movie of a whole group of ministers doing tag-team preaching, or the shot of the auditorium full of African-American men chanting 'Jesus Power,' because these things came from years of research. When I decided I was going to write, direct and act in The Apostle, I knew I would really have to know my stuff. I went all over the United States listening to different kinds of preachers, even going to six Harlem churches in one day."
Duvall goes on to talk about his personal beliefs. He says, "I was raised in the Protestant faith, to believe in Jesus Christ and his teachings, but our church was nothing like Sonny Dewey's." Sonny Dewey is the main character in The Apostle. Duvall continues, "So I have to admit, some of the carrying-on I saw struck me as so much surplus electricity at times. I did my best not to pass judgment, and tried to just understand how they were thinking of the Holy Spirit as something that just comes up and grabs you. But one Sunday, at one of the churches up in Harlem, I did have a moment where I felt something. We were singing along with the wonderful choir, singing 'What a Friend We Have in Jesus,' and I felt a certain quiet, emotional uplift. It was a stillness, more than any kind of noisy exaltation. I suppose that at that moment I could have stood up, like people do, but I didn't. What I did do was when I wrote Sonny's last sermon, I included a part about a 'still, small voice' that can touch you. Because that was my experience."
Actually, I tend to agree with Robert Duvall about that. I have never found much of Jesus in a lot of people yelling about this or that or the other. Jesus also speaks to me mainly in a "still small voice," but that may just be my personality. I suppose the HS could touch different people in different ways.
By the way, the meaning of terms "Holy Spirit" and "Holy Ghost" are identical. Holy Ghost was the common name for the Holy Spirit in English prior to the 20th century. It is the name used in the KJV, and is still widely used by people like me who grew up with the KJV, but the original meaning of the English word "ghost" has changed since 1611, and now it makes many people think of Casper or some disembodied spirit wandering around in the basement of the church. So, most people today prefer the term HS.
Having said that, we should add that most Christians today do not believe in either the Holy Ghost or the Holy Spirit. In April 2009, the Barna Group published a poll that indicated that most Christians do "not believe that the Holy Spirit is a living force." 58% of Christians said that the Holy Spirit is "a symbol of God's power or presence but is not a living entity."
By the way, 59% of Christians in that same poll said they did not believe that Satan is a living being either. The dark Lord, the majority said, is only a symbol of evil.
But, again quoting the same poll, "a majority of Christians believe that a person can be under the influence of spiritual forces, such as demons or evil spirits." This seems contradictory to me. Most Christians say they do not believe the devil is real, but they believe in the power of darkness. They do not believe in the Holy Spirit, but they believe in supernatural forces. Oh well, no one ever said that American religion made any sense. [http://www.barna.org/barna-update/article/12-faithspirituality/260-most-american-christians-do-not-believe-that-satan-or-the-holy-spirit-exis]
The HS is the source of a tremendous amount of controversy. You can visit churches today were people handle snakes and say they are called to do so by the Holy Spirit. In other churches, people fall down on the ground, and howl like dogs, all in the name of that same Holy Spirit.
You probably think that you do not want anything to do with that, and I do not either, but what is Holy Ghost power and how do we receive it? Part of our problem is that the Holy Spirit seems so shadowy. We can picture God the Father, because we have all seen fathers. We can picture God the Son because Jesus became a human being, but when we try to picture the Holy Spirit, we end up with symbols like a cloud, a dove, or wind, or fire.
Perhaps it is better to talk about the work or activity of the Spirit. The HS is the power of God for everyday living. The HS fills our hearts and minds and empowers us to think more clearly, feel more deeply, listen more insightfully, speak more truthfully, love more extravagantly, serve more creatively, encourage more caringly. The HS inspires us to: give more lovingly, live more fully, participate more faithfully, pray more movingly, worship more deeply, give more generously.
Jesus likened the work of the Holy Spirit to the wind. We cannot see wind, but we know wind by its effects. The human eye cannot perceive the movement of air molecules, but we can certainly see a tree that has been uprooted by a high wind. In a similar way, we cannot see the Holy Spirit, but we can experience the Spirit by what the Spirit does.
One of the things the apostle Paul associates with the Holy Spirit is freedom. 2 Corinthians 3:17 tells us that, "Now the Lord is the Spirit, and where the Spirit of the Lord is, there is freedom." The apostle Paul taught that the world is enslaved to dark, demonic powers. The majority of Christians in the Barna poll I cited earlier are somewhat right about that. The HS gives us the power to break out of the prison of darkness, so that we can live and walk in the light of Christ.
In John 16:7, Jesus says, "I tell you the truth: it is to your advantage that I go away, for if I do not go away, the Helper will not come to you. But if I go, I will send him to you." (ESV). Jesus says it is a good thing for you if I am not with you in the flesh, because then you will have this spiritual aid, this help.
The Greek word translated "helper" is "s," which has become our English word "paraclete." In ordinary Greek, "s," means "one who gives assistance." For instance, a paramedic is a person who offers medical assistance. Thus, a paramedic would be called in Greek a paraclete. The word "paraclete" could be also be translated as a counselor, comforter, supporter, advocate, ally, even friend.
After Hurricane Katrina, I read the story of Taylor Rutledge who collected sixty backpacks during her "Hugs For Hurricane Victims Drive." She came up with this idea because she wanted to give the kids from the hurricane a hug, so her clear backpacks were filled with toothpaste, tooth brushes, hand sanitizer, stuffed animals, candy, pencils, crayons, paper, socks, towels, washcloths, soap and some clothes. She was most definitely a helper, a paraclete.
But Jesus is talking about something a little different. He is talking about spiritual help, spiritual power, that is available to his people. Now that is a point that should be made. The Holy Spirit is not some kind of force that is available to anyone. It is only available to believers in Christ.
1 Corinthians 12:3, "Therefore I want you to understand that no one speaking in the Spirit of God ever says 'Jesus is accursed!' and no one can say 'Jesus is Lord' except in the Holy Spirit." This verse is answering a question. How can you tell when a person has the HS? Some people say they speak in unknown tongues. Others say they handle cobras. That is not what the verse says. The verse says that a person filled with the HS will never ridicule Jesus. In fact, such a person will say Jesus is Lord.
Thus, our belief in Jesus is tied directly to the activity of the Holy Spirit in our lives. When people publicly confess Jesus as lord, the reason they do so is because the paraclete or helper is at work in their hearts. The Holy Spirit acts as a magnet that draws us toward Christ. We are not compelled against our will; rather, the HS is a persuasive power. Often, when the Spirit is working with us, we do not even notice its presence, but later on, looking back, we can see how the Spirit worked. We thought we came to Christ, but we discover that the Holy Spirit came to us and led us to proclaim "Jesus is Lord."
That means we cannot take any credit for coming to faith in Christ. We are not saved because of our good looks, or our deep spirituality, but our salvation is something that HS initiated, The Spirit worked with us, and we cooperated with the Spirit.
Now the question comes up. How do I know that I am free in Christ? To use traditional terminology, how do I know that I am saved?
Ephesians 1:13-14 ESV: "In him you also, when you heard the word of truth, the gospel of your salvation, and believed in him, were sealed with the promised Holy Spirit, who is the guarantee of our inheritance until we acquire possession of it, to the praise of his glory."
You are given the HS to show that you belong to God, and the Spirit makes us certain that we will be given what God has stored up for his people. At the moment when we trust in Christ, God marks us with a seal. We do not use seals much today, but a seal is an impressed figure on a piece of paper that authenticates the document. For example, in ancient times, a person would put his seal on a letter so everyone would know that it was his letter, an authentic letter from that person. The Holy Spirit is God's seal, God's way of saying to us, "Yes, I am really with you. Yes, you are really my child." In this life, we have not yet attained the promises of God. We are citizens of the kingdom, but we are not yet in the kingdom. The HS is our guarantee of citizenship, God's pledge to complete what he started in our lives.
Let us take another verse. Galatians 5:16 ESV: "But I say, walk by the Spirit, and you will not gratify the desires of the flesh." This verse describes our spiritual life in terms of a walk, a process, a journey, a pilgrimage. The Holy Spirit offers encouragement and resources to help us along the way. The Spirit will not walk for us, but the Spirit enables us so that we may go on our way.
Like a hiker climbing a steep trail, we often feel tired and beat down. The Holy Spirit helps us stay on the trail, the Spirit gives us water when we are thirsty, rest when tired, a kick in the pants when we grow lazy.
I know I have cited many verses this morning, but bear with me on this.
1 Corinthians 12:7-11ESV
(7) To each is given the manifestation of the Spirit for the common good.
(8) For to one is given through the Spirit the utterance of wisdom, and to another the utterance of knowledge according to the same Spirit,
(9) to another faith by the same Spirit, to another gifts of healing by the one Spirit,
(10) to another the working of miracles, to another prophecy, to another the ability to distinguish between spirits, to another various kinds of tongues, to another the interpretation of tongues.
(11) All these are empowered by one and the same Spirit, who apportions to each one individually as he wills.
The Corinthian Christians were greatly confused about the role of spiritual gifts in their lives, so Paul devoted a major section of his letter to this issue. Every Christian is given some "manifestation of the Spirit." This phrase "manifestation of the Spirit" is another way to describe the gifts of the Holy Spirit, because it is in using these gifts that the invisible presence of the Holy Spirit is manifested or made visible. What I am saying is that the Spirit works through us. Thus if you want to see the HS, look at us. Look at the church. Look at Christians.
And Paul tells us the purpose of this "manifestation of the Spirit"--to help other people. The paraclete calls us to be paracletes. The Spirits acts through us to build up and strengthen the Christian community.
To give some practical examples of what he's talking about, Paul lists several different kinds of spiritual gifts, things like wisdom, faith, healings, miracles, prophecy. These are samples. The number of gifts, the number of spiritual gifts, equals the number of Christians. This means that every follower of Jesus is on a journey of discovery. We are discovering how to use our spiritual gifts in our unique ministry to others.
Thus, the spiritual health of any church is determined not by how powerful the worship service is, not by how effective the speaker is, not by how great the facility is; the spiritual health of any church is determined by how the people of the church use their spiritual gifts to help each other.

If you have questions or comments, email Tony Grant

Copyright 2013 York Associate Reformed Presbyterian Church
Last Modified: 05/02/13