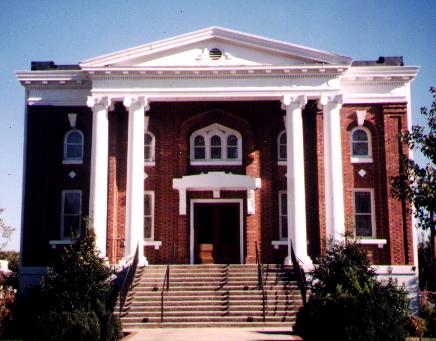 Godspeed
January 7, 2007
1 But now thus says the LORD, he who created you, O Jacob, he who formed you, O Israel: Do not fear, for I have redeemed you; I have called you by name, you are mine.
2 When you pass through the waters, I will be with you; and through the rivers, they shall not overwhelm you; when you walk through fire you shall not be burned, and the flame shall not consume you.
3 For I am the LORD your God, the Holy One of Israel, your Savior. I give Egypt as your ransom, Ethiopia and Seba in exchange for you.
4 Because you are precious in my sight, and honored, and I love you, I give people in return for you, nations in exchange for your life.
5 Do not fear, for I am with you; I will bring your offspring from the east, and from the west I will gather you;
6 I will say to the north, "Give them up," and to the south, "Do not withhold; bring my sons from far away and my daughters from the end of the earth--
7 everyone who is called by my name, whom I created for my glory, whom I formed and made."
(Isaiah 43:1-7)
As of this year, The United States of America is four centuries old. The year 2007 is the 400th anniversary of the first English colony in the New World. The first permanent English colonists arrived in Jamestown, Virginia, in 1607, beating the Pilgrims to Massachusetts by 13 years.
One of the three ships that brought the colonists to Jamestown was the Godspeed, a three-masted square-rigger that sailed the Atlantic for nearly five months to get to Virginia. The ship was just 88 feet long — about the length of a double tractor-trailer — and had a top speed of about 4 miles per hour. The colonists endured what we would consider to be intolerable conditions, with 13 crew members working on the deck and 39 passengers stuck in the cargo hold with 40 tons of supplies. Can your imagine the smell? It must have made grown men cry.
Imagine now that you were on board the Godspeed when it cast off from the London docks on a cold winter day, December 20, 1606. You cruise down the Thames River without any problems, but the English Channel is being raked by stiff winds from the ocean. It takes you six full weeks of sailing just to clear the channel. Today, we can jet to London in six hours. Four centuries ago, it took the Godspeed six weeks to make it down the channel and out to the open sea. Then you cross the Bay of Biscay and turn south toward the Canary Islands. There you replenish your water supply, and catch the strong trade winds which push you across the Atlantic Ocean.
The weeks pass slowly, with nothing to look at, nothing to do. Boredom takes over. Food rots. Tempers flare. People stink.
Finally, you sail into the Caribbean. The island of Dominica becomes your first landing site, and from there you hop to the Virgin Islands, where you do some hunting and fishing. According to the records of John Smith, the most famous passenger aboard the ship, you feast every day on iguanas, tortoises and pelicans, as well as "Parrots and Fishes." I do not know if I would like to eat parrot, but I suppose if you are hungry enough you will eat anything.
Then, you sail north in search of Virginia, but your destination is not easy to reach. Although your calculations indicate that you should be there, for three days you search, but see no land. Then a violent storm strikes your ship, and you have to drop sail and ride it out. There is no way to steer the ship in such conditions, and you fear being blown onto the offshore bars of North Carolina's Outer Banks, and being wrecked and drowned.
But God is with you, and you are driven by the wind into the mouth of the Chesapeake Bay. On April 26, 1607, you make landfall at Cape Henry, and then on May 14 you finally reach your destination: Jamestown.
You have been delivered by the Godspeed, a ship whose name means "May God cause you to succeed."
That's a good name to keep in mind as we begin a new year, 401 years after the first landing at Jamestown.
Isaiah 43 contains a promise from God: "Do not fear, for I have redeemed you; I have called you by name, you are mine. When you pass through the waters, I will be with you" (1-2). This is the kind of promise that the crew of Godspeed must have lived by, especially as violent winds howled around them and towering waves crashed over the deck of their ship. "Do not fear," says the Lord of earth, wind, water and fire; "When you pass through the waters, I will be with you."
Few things on this earth are more terrifying than the watery chaos of the sea, especially to colonists on an 88-foot sailing ship, and to the people of Israel who first heard this promise from the prophet Isaiah. The Israelites were not sailors. They were like cats — they avoided water whenever possible. That is why Genesis speaks of a wind from God sweeping "over the face of the waters," bringing order out of chaos on the first day of creation (1:2). That is why the Israelites were delivered from captivity in Egypt by walking on dry land created by the parting of the Red Sea, and that same sea then shows its destructive power by swallowing up the Egyptian armies (Exodus 14:26-29). And that is why water is an image of judgment in Isaiah, such as when the prophet says, "the Lord is bringing up against [this people] the mighty flood waters of the River … it will sweep on into Judah as a flood, and, pouring over, it will reach up to the neck" (8:7-8).
Water is a fierce and fear-inspiring force. But God is present in the crisis. In the face of danger, God reaches out to us with the assurance, "When you pass through the waters, I will be with you; and through the rivers, they shall not overwhelm you" (v. 2). When you face that which scares you the most, God says, "I will be with you." When you struggle through job loss, academic failure, personal betrayal, disease, depression, divorce, or death. The promise is: "they shall not overwhelm you." God promises to give us help and protection and peace, in the face of the worst terrors and trials that life can throw at us. As we are being hit with the most daunting of personal challenges, the one who is the source of all life promises to preserve us.
The question for us in this new year is: Are we living in the promises? Are we living like we really believe that God will help us? Are we absolutely convinced that the Lord who created us is going to care for us? The colonists on the little ship Godspeed believed this, and they were able to reach their destination.
How about us? Right here. Right now. What do we believe? Do we believe that God is really acting in the world?
The word "Godspeed" has nothing to do with velocity. The ship of the Jamestown settlers topped out at a blistering 4 miles per hour. In this case, "speed" comes from the Middle English word "spede," which means "prosper." So to wish someone "Godspeed" is to wish that God will help them to prosper, or cause them to succeed.
The word is an expression of respect and good will, used when someone is about to go on a journey or embark on a daring endeavor. Anne Brontë uses the term in her book Tenant of Wildfell Hall — "I'm wishing you God-speed," says one character to another, "and aiding you with my prayers." And in Roderick Hudson, by Henry James, "Rowland at the garden gate was giving his hostess Godspeed on her way to church."
"Godspeed" is an antiquated term, very Old School, a word you will never hear on MTV. You will never read it on MySpace. We would never use such a word in casual conversation. But even though we might not say it, we can learn from it. We can live like we trust God. We can rely on God as a real presence in our lives.
I do not mean that God is going to help us win the lottery, nor are we likely to wake up tomorrow and find a new Mercedes parked in all our driveways. When we live in reliance on God, we do not expect showers of material riches. We have a different outlook on what constitutes success and good fortune. After all, the Israelites never had an easy life — they still had to pass through waters, rivers, fire, and flame. Their wealth was found in the promise of God, "Do not fear, for I am with you" (v. 5). Back in 1607, crossing the Atlantic in the Godspeed was a tough challenge, but God was with them to help them succeed.
So, if ease and comfort are not the marks of living in the promises of God, what are those marks? How do we know that we are living like God is a real power in our lives?
We hear God, say, "You are precious in my sight, and honored, and I love you" (v. 4);
We realize that we are part of a compassionate community of faith, one that God is constantly forming and reforming when he promises, "I will bring your offspring from the east, and from the west I will gather you" (v. 5);
We discover that we are nothing less than children of Almighty God — "whom I created for my glory," says the LORD, "whom I formed and made" (v. 7).
That is our success. That is our good fortune. We are precious, honored, and loved. We are part of a community of faith. We were created for God's glory. We were formed and made by a loving Lord.
As we begin a new year, you might be working your way through some troubled waters. You might be down and depressed today. That does not mean that God is not still with you. God's promises are like strong pillars that you can rest your life upon, no matter what your circumstances are
Our good fortune as Americans has always been more spiritual than material, although trash TV shows like The Fabulous Life of Celebrity Super-Spenders can cause us to lose sight of this fact. About 200 years ago, Alexis de Tocqueville visited America in search of the greatness of the United States. He looked for it in our fields and mines, our schools and government buildings, but he could not find it. Finally, he went to our churches, and there it was — the secret of our genius and power. "America is great because America is good," he concluded, "and if America ever ceases to be good, America will cease to be great."
How then are we to be "good"? We focus on being God's people. In the face of any obstacle, any failure, any trial, we keep our eyes on the Lord, and God will give us success. If we rely on God's care for us, God will offer us good fortune. That is the only way to live in 2007 or any other year.

If you have questions or comments, email Tony Grant

Copyright 2000 York Associate Reformed Presbyterian Church
Last Modified: 01/14/08