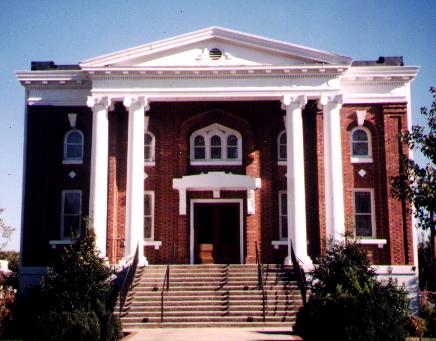 Return to Bulletin Page
FOURTH SABBATH IN ADVENT
11:00 a.m. December 18, 2005
Assemble in God's Name
Organ Prelude:
Choral Introit:
Welcome
Concerns of the Church
s Passing the Peace
s Hymnbook: "O Come All Ye Faithful" #170
s Lighting the Candles
s Call to Worship (Luke 1:38)
Leader: The Lord be with you.
People: And with you also
Leader: Mary said, "Here am I, the servant of the Lord." People: "Let it be with me according to your word."
Leader: And we say with Mary
People: Let it be with me according to your word.
s Hymnbook: "Away in a Manger" #157
s Gloria Patri: #546
Presentation of Tithes and Offerings
Offertory
s Doxology #544
Proclaim God's Word
Children's Sermon
Dismissal to Children's Church (5 and Under)
Choir's Cantata
Scripture Lesson Luke 1:30-33
Sermon: "Baby Bust"
Go in God's Name
s Prayer of Thanksgiving
s Hymnbook: "Joy To the World "…#161
s Extinguishing the Candles
s Charge and Blessing
Postlude
s: All who are able, please stand.

Announcements
Christmas is not the tinsel, not the giving and receiving, not even the carols, but the humble heart that receives anew the wondrous gift, the Christ. Welcome!
Sabbath School Christmas Party
Wednesday, December 21
6:30 p.m.
Bring Soups, Sandwiches, Desserts.
Santa Claus will be there.
We will not have Bible Study this Wednesday.
Candlelight Service
Tonight!!! 7:00 p.m.
Many people say this is the most beautiful service in the church all year. We invite you to come and worship the Lord of light.
A Christmas Wish
What better wish than this, that you and yours will have a Merry Christmas and a Happy New Year.
Tony and Beth Grant
Next Sabbath is Christmas Day. We will not have Sabbath School. We will have Morning Worship at 11:00 a.m.. Come and worship with us on this special day. We will celebrate Holy Communion.

If you have questions or comments, email Tony Grant

Copyright 2000 York Associate Reformed Presbyterian Church
Last modified 03/27/06