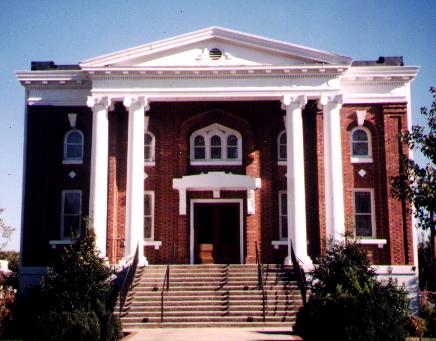 Return to Sermon Archive
The Circumcision of the Heart.
Romans 2:25-29
01/26/03
by Tony Grant
[source: John Wesley, Sermon XVII. Preached at St. Mary's, Oxford, Before the University on January 1, 1733.]
I now invite you to turn in your Bibles to the book of Romans chapter 2 and follow along as I read verses 25-29. Hear what the Spirit says to us.
25 For circumcision verily profiteth, if thou keep the law: but if thou be a breaker of the law, your circumcision is made uncircumcision.
26 Therefore if the uncircumcision keep the righteousness of the law, shall not his uncircumcision be counted for circumcision?
27 And shall not uncircumcision which is by nature, if it fulfil the law, judge thee, who by the letter and circumcision dost transgress the law?
28 For he is not a Jew, which is one outwardly; neither is that circumcision, which is outward in the flesh:
29 But he is a Jew, which is one inwardly; and circumcision is that of the heart, in the spirit, and not in the letter; whose praise is not of men, but of God.
Amen. The word of God. thanks be to God.
Choir
It is a sad commentary on our time that one who speaks on the most essential duties of Christianity, might be accused of being, "a setter forth of new doctrines." Most people have lived so far away from the substance of Christianity, though they may still make the profession thereof, that when someone begins to preach on the difference between the Spirit of Christ and the spirit of the world, they cry out, "This is something strange that we do not understand"—though the minister is only preaching to them "Jesus and the resurrection," with the necessary consequence of it—which is, If Christ be risen, we ought then to die unto the world, and to live wholly unto God.
This is a hard saying to the carnal people, who are alive to the world, and dead to God. This is a truth that they will not readily be persuaded to receive, unless it be so qualified in the interpretation, as to have neither use nor meaning. They receive not the words of the Spirit of God, taken in their plain and obvious meaning. Such words are foolishness to them: Neither indeed can they know them, because such words are spiritually discerned—such words are perceivable only by that spiritual sense, which in them is not awakened; for want of which they reject, as idle fancies that which is both the wisdom and the power of God.
"Circumcision," the apostle Paul says, "is that of the heart, in the spirit, and not in the letter." The distinguishing mark of a true follower of Christ, of one who is in a state of acceptance with God, is not outward circumcision, or baptism, or any other outward form, but a right state of soul, a right state of mind, a spirit renewed after the image of the Lord God who created it. This is one of those important truths that can only be spiritually discerned. And this the Apostle himself intimates in the next words, — "Whose praise is not of men, but of God." As if Paul said, "If you follow Christ, do not expect that the world will approve of you. The circumcision of the heart is foolishness with the world; therefore, be content to wait for your applause till the day of your Lord's appearing. In that day, you will have praise of God."
I. What is It?
Our first task then is to ask: What is this circumcision of the heart? In general, it is that habitual disposition of soul which, in the sacred writings, is termed holiness; and which directly implies, the being cleansed from sin, and being filled with those virtues which were in Christ Jesus. To be more particular, circumcision of heart implies humility, faith, hope, and love.
A. Humility
Humility is a right judgment of ourselves. Humility cleanses our minds from those high conceits of our own perfections, from that undue opinion of our own abilities and attainments. Humility entirely cuts off that vain thought, "I am rich, and wise, and have need of nothing;" and convinces us that we are by nature wretched and blind and naked." It convinces us, that in our best estate we are, of ourselves, all sin and vanity; that confusion, and error reign over our understanding; that earthly and sensual passions usurp authority over our will; in a word, that all the foundations of our nature are wrong. At the same time we are convinced, that we are not sufficient of ourselves to help ourselves; that, without the Spirit of God, we can do nothing but add sin to sin; that it is God alone who works in us by almighty power, either to will or do that which is good.
Humility causes us to form a right judgment of the sinfulness and helplessness of our nature. Thus, we learn to disregard judgments and honors that come from man. If we know ourselves, we neither desire nor value the applause of humankind. It is a small thing to be judged by the world. And even as to those who are not of the world; as to other Christians, though we might desire that they should account us faithful servants of Christ, yet we know that even they are not our judges, and so we do not rest upon their judgment, but upon the judgment of God alone.
B. Faith
The second thing implied in circumcision of the heart is faith. The best guide of the blind, the surest light of them that are in darkness, the most perfect instructor of the foolish, is faith. But it must be such a faith as is mighty through God. It is a faith that casts down everything that exalts itself against God, and brings every thought into obedience to Christ."
Faith may have several aspects. Faith is an unshaken assent to all that God reveals in Scripture:
"Jesus Christ came into the world to save sinners;"
"He bare our sins in his own body on the tree;"
"He is the propitiation for our sins, and not for ours only, but also for the sins of the whole world"
But faith is more than simply assent to Scriptural truth. Faith affirms the revelation of Christ in our hearts; faith has a divine evidence that Jesus loves even me. Faith has a sure confidence in pardon through the cross. This kind of faith is not something we produce. It is wrought in us by the Holy Spirit.
C. Hope
When we are thus by faith born of God, we have also strong consolation through hope. This is the next thing which the circumcision of the heart implies; even the testimony of our own soul with the Spirit which witnesses in our hearts that we are children of God. The Holy Spirit gives us an expectation of receiving all good things at God's hand. The spirit opens up for us a joyous prospect of that crown of glory, which is reserved in heaven for us. By this anchor a Christian is kept steady in the midst of the waves of this troublesome world, and preserved from striking upon those fatal rocks—presumption and assumption, or despair and depression. We do not despair when things do not go well, nor are we presumptuous when things do go well. Rather we know that our "labor is not in vain" in the Lord. We live in the blessed hope that God is with us now and will be with us always.
Thus, the Apostle Paul says, "I so run, not as uncertainly; so fight I, not as one that beateth the air: But I keep under my body, and bring it into subjection; lest, by any means, when I have preached to others, I myself should be a castaway."
This is Christian discipline. By this discipline, soldiers of Christ prepare themselves for spiritual warfare. Confirmed and strengthened by the Holy Spirit, we are able not only to renounce the works of darkness, but those attitudes and thoughts that lead to such works. For "every one," says John, "who hath this hope, purifieth himself even as He is pure." What John is saying is that the daily care of the believer is to purge the inmost recesses of our soul from the attitudes that possessed and defiled us before we knew the Lord. We seek to cleanse ourselves of all envy, and malice, and wrath; from every passion and temper that is after the flesh, that springs from that old sinful nature. Our body is the temple of God. We ought not to admit into it anything that is unclean; rather, we desire only holiness. We desire to be a temple where the Spirit of holiness will be content to dwell.
D. Love
Yet we still lack one thing. We may have a deep humility, a steadfast faith, and a living hope but we need something more. Add love, and we have the circumcision of the heart. "Love is the fulfilling of the law, the end of the commandment." Love is the essence the spirit. Love is the source of all the good that we do. The royal law of heaven and earth is: "Thou shalt love the Lord your God with all your heart, and with all your soul, and with all your mind, and with all your strength."
Not that this forbids us to love anything besides God: It implies that we love our brother also. Nor yet does it forbid us (as some have strangely imagined) to take pleasure in anything but God. Some writers have said that the things of this world are sinful, that therefore we should love only God. To suppose this, is to make God the author of sin, since God created the world. Not so, to love God is to love God's creation. However, having said that, we add that we love God supremely. As scripture says, "The desire of your soul shall be to his name;"
God is our ultimate end. We desire God not just because God is good to us, not just because we fear God—but simply because our soul is incomplete without God. We wish to be joined to the Lord in one Spirit. This is our purpose: to enjoy God in time and in eternity. Desire other things, only insofar as they tend to this. Love the creature and creation as it leads to the Creator. Let every affection, and thought, and word, and work, be subordinate to this. Whatever you desire or fear, whatever you think, speak, or do, let it lead to God.
Thus Paul: "This one thing I do; I press toward the mark, for the prize of the high calling in Christ Jesus." Thus James: "Cleanse your hands, ye sinners, and purify your hearts, ye double-minded." Thus John: "Love not the world, neither the things that are in the world. For all that is in the world, the lust of the flesh, the lust of the eye, and the pride of life, is not of the Father, but is of the world." I should note that when John speaks of the world, he does not mean nature. He means what today we would call society--the world of man. Seeking happiness in what gratifies either the desire of the flesh, by pleasing the outward senses; the desire of the eye, of the imagination, by its novelty, greatness, or beauty; or the pride of life, whether by pomp, grandeur, power, or applause and admiration does not work. If we have spiritual discernment, we know that such is not of the Father, comes not from, neither is approved by, the Father of spirits; but is of the world:
II. Application
Now having considered what circumcision of heart is, let us consider some applications of this circumcision.
1. First of all, to repeat myself, none shall obtain God, unless her heart be circumcised by faith. Faith directs our every step, so that we look not to the visible but to the invisible. We "look not at the things that are seen, which are temporal, but at the things that are not seen, which are eternal;"
It is true that in our time, many people seek a foundation for religion other than faith. They ground religion on virtue and morality. Ask a person how to please God, and most say, "Well do what is right. Do good things." They say that God is reasonable, God only desires of us what is reasonable. And up to a point, they are obviously right. Certainly a Christian strives to be a good and moral person. But we need to understand that basically Christianity is not about morality and virtue. Did you hear what I said. Christianity is not about morality and virtue. Christianity is about Jesus Christ. It is about the cross and the resurrection. Any morality we have stems from the crucified Christ.
Now certainly Christians are people who talk about loving one another. We talk about doing good, living a holy life, keeping the golden rule. But we do these things because of what God has done in Christ. And we do not want to ever lose that focus.
This is the measure by which we judge preaching, by which we judge witness. If an angel from heaven preaches another gospel than that of Christ Jesus, then, God, not we, has pronounced sentence: "Let him be accursed."
Our gospel knows no other foundation of good works than faith in Christ. Our gospel clearly informs us that we are not disciples of Christ if we deny him to be the Author both of our faith and works. Christ alone can make alive those who are dead unto God. Christ alone can so pour out his power upon us that we are enabled to do God's will.
2. From what has been said, we learn, that a child of God "rejoices in hope of the glory of God." Now again, let me point out an error that some Christians make. They suppose that serving God is a somber duty that has nothing to do with happiness. They say that our happiness is unimportant, that life is a dismal gloomy affair at best, and we ought to just serve God. But we are taught by the Scripture, to "rejoice in hope of the glory of God." As believers, we know that God, "of his abundant mercy, hath begotten us again unto a living hope of the inheritance incorruptible, undefiled, and that fadeth not away." Now if we believe that how can we not be happy? We have an assurance that we have the covenant with Christ, How can we not be happy? If God were a hard Master, requiring of us more than he enables us to perform, surely we should be a hopeless people. But God is not like that. God is with us in Christ, to bear our burdens, to lift us up, to give us hope.
Then there are those at the opposite extreme who say, Oh it is easy to please God. Just do a couple of good things and everything is OK. Their view seems to be that God does not expect anything at all of us, so if we do an occasional good thing, God will be so pleased with us that we will be heavenbound. That is a vain hope if there ever was one. The truth is that none of us have any hope at all of every seeing heaven, except though Jesus Christ. We are condemned sinners--unless we are completely and totally dedicated to Jesus.
But what does that mean? It means that we must shake off our old opinions, passions, tempers. We live by Christ, in Christ, for Christ. That is what Paul means when he speaks of living "in infirmities, in reproaches, in necessities, in persecutions, in distresses" for Christ's sake. Paul was a man of God, full of signs, and wonders, and mighty deeds, who was "caught up into the third heaven." Yet he reckoned that all his virtues were insecure, and even his salvation in danger, without this constant focus on Christ. "So run I," says he, "not as uncertainly; so fight I, not as one that beateth the air:" By which he plainly teaches us, that he who does not thus run, who does not give himself daily to Christ, does run uncertainly, and fights to as little purpose as one that "beats the air."
When the holy spirit moves on our hearts, we are circumcised with holy love. Love turns us away from the lust of the flesh, the lust of the eye, and the pride of life, and engages us--body, soul, and spirit--in the ardent pursuit of that one object--namely Jesus Christ. Love is so essential to a child of God, that, without it, we are accounted as dead. Again Paul says, "Though I speak with the tongues of men and of angels, and have not love, I am as sounding brass, or a tinkling cymbal."
Here, then, is the sum of the perfect law; this is the true circumcision of the heart. That we turn to God in love. God does not demand from us other sacrifices. Rather, he demands the living sacrifice of the heart. We offer up our heart and lives to God through Christ, in flames of holy love. We make God the center of our lives. We have no design, no desire that does not have God for its ultimate object. Let all our thoughts, words, and works, praise his name. Do that and you will indeed have "the circumcision of the heart." Amen.

If you have questions or comments, email Tony Grant

Copyright 2003 York Associate Reformed Presbyterian Church
Last modified 3/17/03