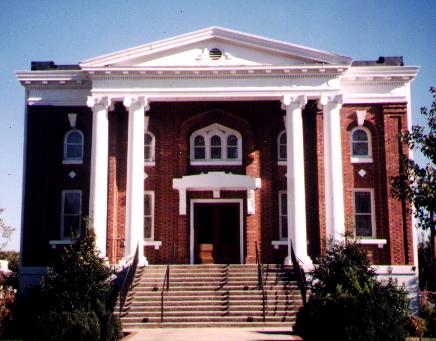 Chair Comfort
January 7, 2001
Isaiah 43:1-7
by Tony Grant
I invite you to turn in your Bibles to chapter 43 of the prophet Isaiah and follow along as I read verses 1-7. "Let anyone who has an ear listen to what the Spirit is saying to the churches." (RV2:29).
1 But now thus saith the LORD that created thee, O Jacob, and he that formed thee, O Israel, Fear not: for I have redeemed thee, I have called thee by thy name; thou art mine.
2 When thou passest through the waters, I will be with thee; and through the rivers, they shall not overflow thee: when thou walkest through the fire, thou shalt not be burned; neither shall the flame kindle upon thee.
3 For I am the LORD thy God, the Holy One of Israel, thy Saviour: I gave Egypt for thy ransom, Ethiopia and Seba for thee.
4 Since thou wast precious in my sight, thou hast been honourable, and I have loved thee: therefore will I give men for thee, and people for thy life.
5 Fear not: for I am with thee: I will bring thy seed from the east, and gather thee from the west;
6 I will say to the north, Give up; and to the south, Keep not back: bring my sons from far, and my daughters from the ends of the earth;
7 Even every one that is called by my name: for I have created him for my glory, I have formed him; yea, I have made him.
Amen. The word of God. Thanks be to God.
Behold ... the chair, the seat of success in our high-tech economy. Right along with food, shelter, clothing, and high-speed Internet access, the chair is becoming one of life's necessities. With all the time we spend sitting these days - in front of a computer, a work station, a desk or a table - a comfortable chair is clearly a key to a quality existence.
[Take a seat in the chair.] The chair must be the right height. It must have good lumbar support. A top-grade cushion is nice, as are some armrests and a little rocking action. You want a comfortable place to sit as you manipulate your computer mouse, keyboard, laser printer, scanner and the like. [Exit chair.]
But where do you go in your quest for chair comfort? Some folks are looking to a company called Herman Miller, a crafter of master seats. On their Aeron chair, Herman Miller has no thick padding, just polyester mesh, woven into a unique design that is light, flexible, mobile, resourceful and utterly resilient. Posed like a dragonfly on its off-center mechanical core, it is leveraged, restful and always ready to serve. It is an example of what the seat scientists of the 21st century call "deep chairness." A competing firm, called Humanscale, makes its padding from a silicone-like substance called TechnoGel. TechnoGel is a material that has such gelatinous buoyancy that it spreads weight with uncanny gentleness. The Humanscale chair has a waferlike seat that goes way beyond mere "cushioning." One user said it's "like sitting in a puddle of your own flesh." That seems like an odd description to me, but it means the ultimate in comfort. Of course, seats this sweet are anything but cheap. The Aeron will cost you somewhere between $750 and $1,100. Humanscale's no-frills price is a mere $985.
In the grand scheme of things, however, seating comfort is not a world-class problem. Sure, it has made the front page of The Wall Street Journal in an article on padded church pews, and an episode of "Will and Grace," the NBC-TV comedy that airs on Thursdays, was devoted to the invention of a subway seat cushion. By the way, I have never seen "Will and Grace." I just read a paragraph on that episode. But, for all that, most people do not have chair comfort high on their agenda.
One might even ask the question that if we are willing to spend that kind of money on cushion comfort, what would we be willing to shell out for peace of heart, mind and soul?
In today's text, the prophet Isaiah has no interest in high-tech chairs, but he is addressing a people who are in dire need of encouragement and reassurance.
Isaiah 43:1-7 is an oracle of redemption, one of the finest examples of classical Hebrew poetry and one of the best-known and best loved prophetic utterances. It is a sweeping panorama of both time and space. Redemption for God's people involves the past, present and future. It is not simply redemption for one nation or one people of one time. Salvation is a matter of cosmic dimensions.
The opening formula of v1 - "thus says the LORD" - is found more than 400 times in the Hebrew Bible, and is the hallmark of the utterance of the prophet. The prophet was one who spoke the word of the Lord. The first word of v1, "but," is implied by context; it is not found in the original text. In the previous chapter, Isaiah has described Israel's unresponsiveness to God's leading. For example in 42:23, the prophet says, "Who among you will give ear to this, will attend and listen for the time to come?" He describes the people of Israel as blind and deaf in spiritual matters. Even so, God is not blind and deaf, and God has not given up his people. Isaiah makes this point by describing the acts of God's gracious protection in 43:1-7. Four verbs in v1 compress a wealth of theological insight and religious sentiment into a few lines, setting the pace and tone for the rich oracle that follows. The verbs are "created," "formed," "redeemed," and "called"
You may also note that v1 refers to both "Jacob" and "Israel." Both of these names refer to the entire people of Israel. Jacob was the father of twelve sons who became the twelve tribes of Israel, so it is fairly common in the OT to refer to Israel as "Jacob." Isaiah is particularly fond of the term "house of Jacob," which occurs more times in Isaiah than in any other OT book.
Isaiah is also fond of the verb "created"—which in Hebrew is bara. Isaiah uses "bara" more than any other writer in the Hebrew Bible. For example, in our text today, the verb occurs both in v1 and in v7. In these verses God is not talking about creating the world. He is talking about creating his people. These verses hit on the main theme of the text, which is the redemption of God's people as a new creation. For Isaiah, redemption, salvation, is a new creation. This is a theme that the Apostle Paul will hit again in the NT.
"Formed" is another verb in v1. The Hebrew verb here usually designates the activity of a potter or carver. The word is used for emphasis. God created us, God formed us.
The third verb is "redeemed." Redemption is a topic that, for obvious reasons, has been the subject of an enormous literature in studies of both testaments. In the OT, God's redemption of Israel centers around the context of Egyptian bondage and Babylonian exile. God liberated his people from slavery in Egypt. God brought back his people from exile in Babylon. If God can do these things, what can God do for us?
The last major verb of v4 is "called." The Hebrew term is qara. Here it is used to used in the form of "to be called by the name of." We are called by the name of God. That is the equivalent to saying that we are accounted as the people of God. That is why v1 concludes with the words, "thou art mine." God's people who have been created, formed, redeemed and called by God are God's possession.
In v2, the use of "waters" and "fire" to denote threats to Israel's life are symbolic terms intended to recall the events of the Exodus. The fleeing Israelites passed through the waters of the Red Sea and through the waters of the river Jordan. For forty years in the wilderness they walked through the burning heat, the fire, of the desert. But God brought them through all of that and made a nation of them. The mention of Egypt in verse 3 reinforces the echo of the exodus. Egypt was literally handed over for Israel in that Egypt's hardheartedness resulted in that nation's suffering under the ten plagues of the exodus.
The geographical sweep of verses 5-6, where all the points of the compass are mentioned, show us the worldwide nature of God's saving activity. Isaiah here sees Israel not as a small nation in the Middle East but as all God's people. Israel is all those people of every time and every place who have responded in faith to the gracious summons of the Lord, as v7 puts it, "everyone who is called by my name" (v. 7). V7 we might note contains three of the four verbs used in v1 (called, created, formed). Thus, v7 summarizes and concludes this great proclamation of redemption.
If we think upon these verses in the context in which they were written, they are a message of warm and sweet comfort to a people in despair. Israel had been destroyed by the Assyrians. Judah had been devastated by the same enemy. The outlook for God's people was bleak at best. The nation is broken and scattered. Their homeland, community and families are in danger - even their very lives. But God says that when they pass through raging waters and walk through scorching fires, his presence will be with them. He will protect and restore them, for he is the one who has created and formed them - he is the LORD their God, the Holy One of Israel, their Savior.
"Do not fear," says the LORD. "Do not fear, for I have redeemed you; I have called you by name, you are mine" (43:1). Here is real comfort for a hurting and hopeless community.
The problem we have in understanding these verses today is that some of us are rather spoiled, because we have had it so good for so long--so we fuss about things like who gets the biggest and most expensive chair, and we forget that our neighbors may be experiencing real agony. People are passing through "the waters" (v. 2) - through the raging and overwhelming rivers of divorce, death, depression and job disillusionment. Think of the couple whose marriage grows colder and colder, and then shatters like a block of ice, of the young parents who lose a cherished child to a killer cancer, of the retiree who becomes isolated, depressed and then suicidal, of the computer tech who makes a stupendous salary but who absolutely dreads the thought of going to his cubicle each day.
Others are walking through fire - through the flames of family conflict, spousal abuse, financial difficulties and life-threatening disease. Picture the frustrated father locking horns with his defiant teenager, the twentysomething wife who shows up at church with strange bruises and a chipped tooth, the young professional who has maxed out his credit cards and can't seem to pay his bills, the middle-aged man who is slowly wasting away because of cancer.
These are our neighbors, people feeling pain as they pass through the waters and fires. They're not turned on by the tantalizing TechnoGel technology that turns an office chair into "a puddle of your own flesh" - instead, they want simply to keep their flesh in one piece, out of the searing flames and the raging rivers that threaten them every day. What concerns them is surviving. Not sitting.
Perhaps the same is true for us. Maybe our own quest for comfort goes beyond "chair comfort " as well. Along with all those in crisis around us, we are challenged to dig deep into this passage from Isaiah - a passage that promises to give us a way through fires and waters, as well as a shot of strength and comfort in the face of trouble.
The good news is that we begin in a privileged position. That is never a bad place to start. God created you, insists Isaiah. God formed you. God called you. God redeemed you. No matter how bad life gets--no matter how many divorces, deaths, disillusionments and disappointments we face--nothing is going to change this spiritual connection we have with God. We cannot be pulled down from our position as created, formed, called and redeemed children of God. Raging water can not do it. Neither can fire. We cannot even be dragged down by a psychotic boss or an abusive spouse. Through the prophet, God says, "You are precious and honored in my sight, and I love you" (v. 4). That's a permanent commitment, from the Creator of all that is. That is a commitment that will endure on earth and in heaven.
So many men and women have counted on their relationship with God to sustain them through a variety of raging storms, and they have not been disappointed. Dietrich Bonhoeffer and Phil Berrigan wrote journals while in prison, speaking convincingly of the power of prayer and love to overcome the power of fear. Although he was not a Christian, Mahatma Gandhi was able to walk alone into incredible violence between Hindus and Muslims in India because he was convinced that Jesus walked with him. Sister Helen Prejean--whose story is portrayed in the movie "Dead Man Walking"--discovered that she could go into death row, develop a relationship with a convicted murderer, face all the recriminations that flowed from that relationship, and then accompany him at the moment of death. All of these people stayed in touch with the Awesome One who had created, formed, called and redeemed them.
But is this connection enough? Perhaps not. It is not enough if it is only a passive connection. We also need the assurance that God is taking aggressive action in our lives. That is why the promise in Isaiah is so powerful: When you pass through the waters--the waters of divorce, death, depression and disillusionment--I will be with you, says the LORD. When you pass through the rivers--the rivers of failing marriages, dying children and despair-filled days--they shall not overwhelm you. I will be with you to bring you new love, new life, new opportunities, new hope.
God is an active God, not just a passive presence. When you walk through fire you shall not be burned, not even if the fire is conflict, abuse, bankruptcy, or disease. God is always working to bring peace out of violence, good out of evil, and life out of death. Although we will certainly feel the heat, and may even get singed, with God at work in our lives the flames shall not consume us.
But that is not all. Sometimes we ourselves can act as channels of God's amazingly active involvement in human life. At times, we can reveal the power and presence of the LORD to a neighbor who is in danger of destruction. When Sister Helen Prejean asked the condemned man if he wanted her to be present at his execution, he said yes. She went on to tell him, "At that last moment, Patrick, look into my eyes and I will be the face of Christ for you." That may seem presumptuous, but it is not. Wwe are called to be Christ to the world. It is sometimes not a nice world. Sometimes it is a sinful evil world. We are still called to be Christ to the world.
The quest for comfort, the quest for hope, always ends in the presence of the God who creates, forms, calls and redeems us and who works actively and aggressively for good in our lives. The ultimate good is not chair comfort. but " faithfulness," the faithfulness of Almighty God. Our call is to be faithful to the God who is faithful. Our call is to be Christ because Christ came into the world to save us. Amen.
Sources:
McGinnis, James. "Go Out Into the Deep." Weavings, March-April 1999, 42-43.
Sterling, Bruce. "The Hot Seat." Wired, July 2000, 196ff.

If you have questions or comments, email Tony Grant

Copyright 2000 York Associate Reformed Presbyterian Church
Last modified, 01/16/01