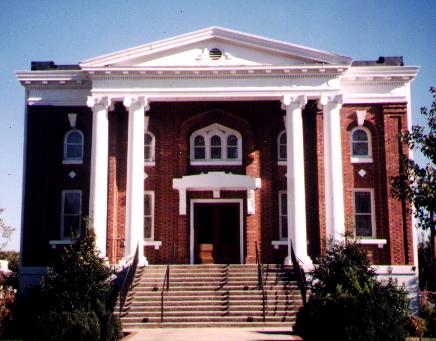 FOURTH SABBATH IN EASTERTIDE
11:00 a.m. May 6, 2001
Assemble In God's Name
Organ Prelude:
Choral Introit:
s Hymnbook: "For All the Saints Who from Their
Labor's Rest" #425
s Passing the Peace
Concerns of the Church
Call to Worship (Psalm 105:1-4)
Leader: O give thanks to the LORD, call on his name, make known his deeds among the peoples.
People: Sing to him, sing praises to him; tell of all his wonderful works.
Leader: Glory in his holy name; let the hearts of those who seek the LORD rejoice.
People: Seek the LORD and his strength; seek his presence continually.
Opening Prayer
Prayer of Confession (in unison)
Almighty; God, in raising Jesus from the grave, you shattered the power of sin and death. We confess that we remain captive to doubt and fear, bound by the ways that lead to death. We overlook the poor and the hungry, and pass by those who mourn; we are deaf to the cries of the oppressed and indifferent to calls for peace; we despise the weak and abuse the earth you made. Forgive us God of mercy. Help us to trust your power to change our lives and make us new, that we may know the joy of life abundant given in Jesus Christ, the risen Lord. Amen.
Declaration of Forgiveness
Leader: The saying is sure and worthy of full acceptance, that Christ Jesus came into the world to save sinners (I Timothy 1:15).
People: He himself bore our sins in his body on the cross, so that, free from sins, we might live for righteousness; by his wounds you have been healed (I Peter 2:24).
s Hymnbook: "Hear My Words, O Gracious Lord" #48
Presentation of Tithes and Offerings
Offertory
s Doxology #544
Proclaim God's Word
Children's Sermon: "Threefold"
II Corinthians 13:14
Dismissal to Children's Church (5 and Under)
Prayers of the People
First Reading: Psalm 23
Second Reading: Acts 9:36-43
Anthem:
Sermon: "A Sixty-Second Life"
Go In God's Name
s The Apostles' Creed
s Prayer of Thanksgiving
s The Lord's Prayer
s Hymnbook: "How Firm a Foundation" #369
s Charge and Blessing
Postlude: