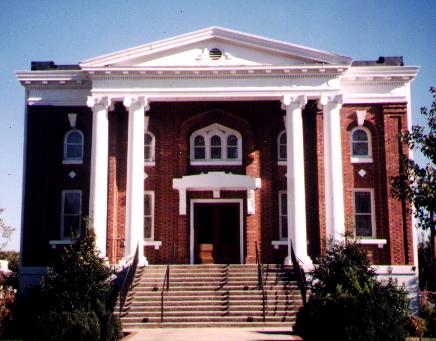 HOLY COMMUNION
FIFTH SABBATH IN LENT
11:00 a.m. April 1, 2001
Assemble in God's Name
Organ Prelude:
Choral Introit:
s Hymnbook: "All People That on Earth Do Dwell" #24
s Passing the Peace
Concerns of the Church
Call to Worship (I John 4:16)
Leader: The Lord be with you.
People: And also with you.Leader: God is Love.
People: And those who abide in love abide in God,
Leader: And God abides in them
Opening Prayer
Prayer of Confession (in unison)
Risen Savior, you call us to your table of grace to enjoy your presence, but we dare not come to the table with dirty hands and sin-stained hearts. Only your forgiveness can make us clean within. We confess we have edged you to the fringes of our lives as we have become occupied with countless so-called "urgent" matters. We confess we have fooled ourselves into believing we are too busy to pray and too exhausted to serve. We have devised clever justifications for ignoring the poor and avoiding those in despair.
Forgive us, dear Lord. Help us order our days and our deeds according to your will. Grant us pardon, and comfort us with the assurance of your Spirit. Then shall we be free to celebrate your feast of love with the saints of this and every time and place. Amen.
Declaration of Forgiveness
Leader: Who is to condemn? It is Christ Jesus, who died, yes, who was raised, who is at the right hand of God, who indeed intercedes for us. (Rom 8:34)
People: So if anyone is in Christ, there is a new creation: everything old has passed away; see, everything has become new! (II Cor. 5:17)
s Hymnbook: "On the Good and Faithful" #52
Presentation of Tithes and Offerings
Offertory
s Doxology #544
Proclaim God's Word
Children's Sermon: "Sweet as Honey," Proverbs 16:24
Dismissal to Children's Church (8 and Under)
Scripture Lesson: Mark 1:14-15
Anthem:
Sermon: "The Repentance of Believers"
The Eucharist
s The Nicene Creed p.12
s Hymnbook: "Break Thou the Bread of Life" #250 (Stanza 1)
Preparation of the Table
Prayer of Thanksgiving
ALL: Holy, holy, holy Lord, God of power and might, heaven and earth are full of your glory.
Hosanna in the highest.
Blessed is he who comes in the name of the Lord.
Hosanna in the highest.
The Lord's Prayer
Communion of the People
Go In God's Name
s Hymnbook: "Break Thou the Bread of Life"… #250 (Stanza 2)
s Charge and Blessing
Postlude:
ANNOUNCEMENTS
On this fifth Sunday in Lent, we welcome all that have come to praise God and remember the Lord Jesus Christ. Your presence brings us joy. May God bless us all richly.
Betty Adkins is in Mary Black Hospital. Please remember all our sick and shut-ins in your prayers.
Bible Study: We are studying II Kings on Wednesdays at 10 a.m. and 7 p.m.
Next Sabbath is Palm Sabbath.
Joint meeting of the Session and Diaconate, next Sabbath, April 8, 2001.
Community Holy Week Services are at Trinity United Methodist Church every day during Holy Week (April 9-13). Services begin at noon. Different ministers from area churches are preaching every day. A light lunch will be served after the service.
Maundy Thursday Communion Service, April 12, 7:00 p.m.
Easter Egg Hunt. Saturday, April 14, 2001. Each child is to bring three eggs.
Easter: April 15, 2001
If you have questions or comments, email Tony Grant

Copyright 2000 York Associate Reformed Presbyterian Church
Last modified 04/06/01