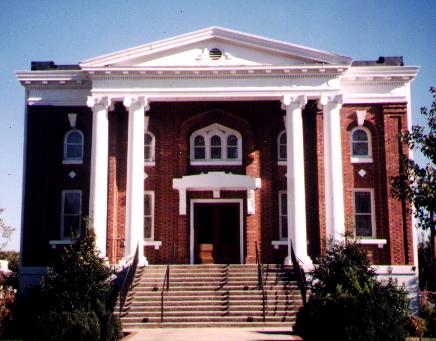 Absurd
(Abbreviated)
Community Holy Week Service 04/07/09
I Corinthians 1:18-24
18 For the preaching of the cross is to them that perish foolishness; but unto us which are saved it is the power of God.
19 For it is written, I will destroy the wisdom of the wise, and will bring to nothing the understanding of the prudent.
20 Where is the wise? where is the scribe? where is the disputer of this world? hath not God made foolish the wisdom of this world?
21 For after that in the wisdom of God the world by wisdom knew not God, it pleased God by the foolishness of preaching to save them that believe.
22 For the Jews require a sign, and the Greeks seek after wisdom:
23 But we preach Christ crucified, unto the Jews a stumblingblock, and unto the Greeks foolishness;
24 But unto them which are called, both Jews and Greeks, Christ the power of God, and the wisdom of God.
Amen. The word of God. thanks be to God.
About a month ago, I had an interesting conversation with a young man who has recently been rejuvenated in his faith. It was good to hear his testimony about his personal struggle for a deeper faith. He was talking about how meaningful Christ was to him, and I certainly appreciated that. Then he said, "Christianity is the only thing that makes sense. It is just logical to believe in Jesus."
And that kind of brought me up short. I know he was on a roll, expressing his enthusiasm for Jesus, but I had to add a little qualification. I said, "I do not think Christianity makes any sense at all. The gospel is not reasonable or logical."
Think about what we say as Christians. We say Jesus Christ was God incarnate. This man who lived most of his life in a backwoods province of the Roman Empire was totally and completely a human being and totally and completely God. That statement is totally and completely illogical. Paul says in I Corinthians that it is "foolishness," but this divine foolishness is salvation to the believer.
Paul adds in v22, the "Greeks seek wisdom." They want proof by logical reasoning, but I cannot convince you logically that Christ makes sense. I cannot even convince you logically that life makes sense. Life often seems cruel and chaotic.
Take a wasp for example. A wasp attacks its prey, a grasshopper or some other insect, and paralyses it and while the poor insect is paralyzed the wasp implants its young, its larva, in the living insect. The larva then proceeds over the next several days and weeks to eat that insect alive from inside. That is cruel. Mother nature is often brutal. Look at all the ways the world has of killing us, by accident or disease or natural calamity. Then on top of that we kill each other. We have just left the 20th century, a century of war and extermination camps. How does any of that logically lead us to God?
As we look at our individual lives, we see struggle and confusion. As the bumper sticker says, "Life is bleak and then you die." Shakespeare said,
[life] is a tale
told by an idiot, full of sound and fury,
Signifying nothing.
(Macbeth, Act5, Scene5)
Now if you believe that, then life is joke. And that is where logic and reason lead us—to say that life is absurd.
In I Corinthians, the Apostle Paul has realized what we might call the trap of reason, so he explores a different way, the way of faith in the crucified one.
But think about how absurd that faith is. First, we say that God created the universe. We cannot prove that. Then we say that God loves us. Again, how would you prove that? Then I say that God died for me so that I can live forever with God. That is an absurd statement. Yes it is. A divine absurdity.
v18, "For the word of the cross is folly to those who are perishing, but to us who are being saved it is the power of God." To an unbeliever, the "word of the cross" is just silly. To a believer, it is the "power of God." Through faith, we receive this power that makes sense out of life. No other way works.
We read in v20, "Has not God made foolish the wisdom of the world?" God has turned everything around so that wisdom is foolishness and foolishness is wisdom. The cross is absurd; therefore it is the most profound event in all history, but we only perceive this by faith.
Imagine this. It is pitch dark. You cannot see even your hand before your face. You believe that you are standing on one side of a canyon. The canyon is incredibly deep. If you fall, you will certainly die. But you believe that the canyon is very narrow at this point and you believe that if you can take a running leap in the dark, you can make it to the other side. That running leap in total darkness illustrates faith in Christ. You do not have proof. It is absurd to believe. Believe anyway. Have faith in Christ. Walk in faith, live in faith, and you will see God.

If you have questions or comments, email Tony Grant

Copyright 2000 York Associate Reformed Presbyterian Church
Last Modified: 02/02/13