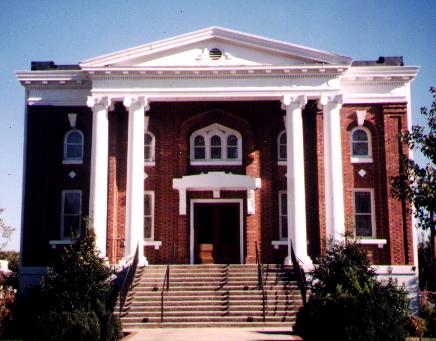 Return to Sermon Archive
God's Area Code
February 22, 2004
Exodus 34:29-35
2892 words
I now invite you to turn with me to the book of Exodus, chapter 34, and follow along as I read verses 29-35. Hear what the Spirit says to us.
29 And it came to pass, when Moses came down from mount Sinai with the two tables of testimony in Moses' hand, when he came down from the mount, that Moses wist not that the skin of his face shone while he talked with him.
30 And when Aaron and all the children of Israel saw Moses, behold, the skin of his face shone; and they were afraid to come nigh him.
31 And Moses called unto them; and Aaron and all the rulers of the congregation returned unto him: and Moses talked with them.
32 And afterward all the children of Israel came nigh: and he gave them in commandment all that the LORD had spoken with him in mount Sinai.
33 And till Moses had done speaking with them, he put a veil on his face.
34 But when Moses went in before the LORD to speak with him, he took the veil off, until he came out. And he came out, and spake unto the children of Israel that which he was commanded.
35 And the children of Israel saw the face of Moses, that the skin of Moses' face shone: and Moses put the veil upon his face again, until he went in to speak with him.
Amen. The word of God. Thanks be to God.
Choir
212
The area code for Manhattan, New York City is 212. It is the most envied, most desirable, most sought-after area code in the world. 212 screams power, prestige, privilege and preferment to anyone you do business with. Those three digits alone proclaim that you are someone to be reckoned with.
Don't have a Manhattan area code? Not to worry. Vonage, a voice-over-IP phone service will sell you a 212 area code for your use whether you live in Manhattan, New York City, or York, SC. This area code (or any other area code you may want) will work anywhere there is a broadband internet connection. Vonage provides a portable adapter that plugs into a DSL route or cable modem and converts your analog calls into digital signals.
Now you might wonder what it says about us—that there is a company that sells us a service that allows us to pretend that we live in a prestigious area. I suppose it says that we Americans know that to be powerful, you must be connected to the powerful; to be wealthy, you must be connected to the wealthy; to be privileged, you must reside in the center of privilege. And if you do not live with the powerful and the wealthy and the privileged, not to worry, Vonage will allow you to pretend that you do.
A Veiled Face
In our text from Exodus, God does not pretend a connection. God does not merely invite Moses to tap into the electronic corridors of power, or to become privy to God's area code; rather, God meets Moses on the mountain.
Mount Sinai's exact location is not known. Several peaks in the Sinai peninsula have been proposed as the holy mount, but we are not certain which one Moses ascended to talk with God. Perhaps that is in God's providence. If we knew for sure which mountain was the Mount Sinai, we would make pilgrimages to it, and many people would worship the mountain instead of the God of the mountain. So it may be better that we do not know.
Historically, mountains have functioned as places for divine-human encounters. With their bases reaching far into the earth and their peaks disappearing into the clouds, they seem naturally to be a place where we can meet God. In the Bible, Mount Gerizim, Mount Ebal, Mount Hermon, Mount Nebo, and Mount Tabor all served as places for encounter with the divine.
On Mount Sinai, Moses received a second copy of the Ten Commandments, the first copy having been destroyed when Moses discovered the idolatry of the Israelites with the golden calf. Moses brought the commandments down from the mountain, but he did not realize that, as a result of his conversing with God, his face "shone" or "emitted rays of light." The reaction of "Aaron and all the Israelites" to Moses' shining face was fear, so much so that Moses had to cover his face with a veil.
Call/Response
So now we ask, What does this text mean to us? One thing we notice immediately is that Moses responds to God's call. We do not call God; God calls us. It is God who initiates the encounter, inviting Moses to step out of his comfort zone into a new area code with a whole new purpose—which leads to this principle: Any encounter with God is a call and a response.
By the call of God, we do not mean that the voice of God will sound anything like Charleton Heston, or that the experience itself will be scripted like a Cecil B. DeMille movie, but God does call—which leads to a personal question: Am I listening? Am I expecting God to call and listening for the call?
There is an old story that says,
The man whispered, "God, speak to me."
And a meadowlark sang. But the man did not hear.
So the man yelled, "God, speak to me!"
Thunder rolled across the sky. But the man did not listen.
The man looked around and said, "God, let me see you."
A star shone brightly. But he noticed it not.
And the man shouted, "God, show me a miracle."
And a life was born. But the man was unaware.
So, the man cried out in despair, "Touch me, God, and let me know that you are here!"
Whereupon God reached down and touched the man.
But the man brushed the butterfly away and walked on.
—Anonymous.
That little story illustrates the truth that God is always calling us, but we are not listening to God. We do not listen because we are distracted by our sins. We may not call them sins. We may call them our job, our work, our hobby, our favorite TV program, our favorite book, our favorite video game, but make no mistake about it, anything that comes between us and God is a sin; Anything that distracts us from God is a sin.
What then do we do to get past our sins so that we might draw nearer to God. The Cloud of Unknowing is anonymous book from the fourteenth century. It says, "And then if it so be that thy foredone special deeds will always press in thy remembrance betwixt thee and thy God, or any new thought or stirring of any sin either, thou shalt stalwartly step above them with a fervent stirring of love, and tread them down under thy feet." (Chapter 31).
The Cloud of Unknowing says, Do not be a wimp. You are not just a sinner, you are a child of God. Use the power God has given you to overcome sin in your life. Be strong, and do not give up.
Now I realize that that is easier said that done. I can stand here in the pulpit and say that you can triumph over your personal sins, yet we all know that it is easier to talk about overcoming sin than it is to actually overcome sin. Sin is a terrible and strong enemy.
In The Cloud of Unknowing, the author realizes the difficulties we face in our spiritual journey to God. He offers us some startling advice. He says, "When thou feelest that thou mayest on nowise put them down,[that is, when you feel that you cannot overcome your sins] "cower thou down under them as a caitiff and a coward overcome in battle, and think that it is but a folly to thee to strive any longer with them, [you need to realize that you have been defeated by sin, and accept that, which seems sort of strange advice, then he adds] therefore thou yieldest thee to God in the hands of thine enemies. And feel then thyself as thou wert foredone for ever. [in other words, understand that you have been defeated, you have lost, and give yourself to God. You have done your best, you are still a sinner, then give yourself utterly to God and trust God entirely. The Cloud of Unknowing goes on to say]. "And surely me think an this device be truly conceived it is nought else but a true knowing and a feeling of thyself as thou art, a wretch and a filthy, far worse than nought: the which knowing and feeling is meekness." What The Cloud of Unknowing is saying is that in the struggle against sin, we come to a true appreciation of what we are, "a wretch and a filthy, far worse than nought," and it is in this condition of humility and meekness that we are prepared to receive the reconciliation with God Christ has purchased for us. (quotes from chapter 32).
How Do I know God's Call?
As humbled sinners, we are ready to answer God's call. Now you might ask, How am I to know what God calls me to do? We know by prayer. Prayer is the cry of a child for a parent. Prayer is not a logical presenting of our requests to God and receiving answers; Prayer is an experience. Why do birds sing? Because they are made to sing. Why do we pray? Because we are made to pray. Prayer is not something we do because it is a good thing. Prayer is something we do because that is why we were created.
Saint Augustine wrote a letter addressed TO PROBA, A DEVOTED HANDMAID OF GOD. It is a long letter divided into chapters. In chapter 9, He quotes I Thessalonians 5:17, "Pray without ceasing." He then expounds upon it saying that it means: "'Desire without intermission, from Him who alone can give it, a happy life, which no life can be but that which is eternal'? This, therefore, let us desire continually from the Lord our God; and thus let us pray continually." Augustine says that we should pray continually, and pray specifically for a happy life, then he adds that the only possible happy life ia an eternal life., so we should be in prayer to God about that. He admonishes us to turn from other cares and business to be about the business of prayer. He reminds us that Philippians 3:6 says, "Let your requests be made known unto God." Philippians does not mean that we inform God of anything that he does not know. In our prayers, we are not delivering information to God. Rather we are making known our requests in the presence of God, and this making known of our requests, enables us to receive the answers we need from God. We do not tell God what he does not know in prayer, but our prayers connect us to God, and this connection changes us so that we have the answer we sought. We have the power we need to carry the burden we prayed about.
God's Call
Thus, by prayer we come into the presence of God and by prayer we learn God's call. No one can predict exactly what God's call will be for you, but throughout scripture one thing appears certain: The call from God comes with a purpose that serves others. For Moses it was the giving of the Ten Commandments that shaped a community; for Sister Helen Prejean it was a ministry of compassion to persons under penalty of death.
Sister Helen Prejean is from Louisiana. She joined the Sisters of St. Joseph of Medaille in 1957. Sister Helen began her prison ministry in 1981 when she became pen pals with Patrick Sonnier, the convicted killer of two teenagers, sentenced to die in the electric chair,
Sister Helen turned her experiences in her prison ministry into a book that was nominated for a 1993 Pulitzer Prize. Dead Man Walking was number one on the New York Times Best Seller List for 31 weeks. It also made the International Best Seller List and has been translated into ten different languages. In January 1996, the book was developed into a movie starring Susan Sarandon as Sister Helen and Sean Penn as a death row inmate. The movie received four Oscar nominations, and Susan Sarandon won the Oscar for Best Actress.
Back to Sister Helen, she intended only to respond to a letter from a lonely man on death row. For her, the prisoner's plea was an invitation from God that she could not refuse, any more than Moses could refuse God, who summoned him to the mountain. Sister Helen Prejean said yes to the divine invitation that came in the form of a poorly written letter from a prisoner, and her "yes," led her into a web of hurting people who needed her to be the instrument of God's healing.
Sometimes, in our blindness, we look around at our circumstances, and say, I do not see anything that God could possible want me to do. That is because we not only do not listen to God, we do not see with an eye of love. There are unbelievers who need a reason to believe; Perhaps God calls us to give them that reason. There are invalids or shut-ins who need meals and clean homes. There are neighbors who have lost loved ones. There are people who need to hear the Word of God. The need is there. God's call to supply that need is there. We need to be like Moses. We need to respond to God's call where we are.
A Changed Life
Let us return to our text. One thing that strikes us immediately about this passage of scripture is that Moses' appearance changed when he met God. After the encounter, Moses' skin was shining so brightly that he had to wear a veil to keep from blinding the people. We do not know exactly what to make of this and neither do the scholars. Certainly, we do not necessarily expect our faces to glow like Moses' after we meet God.
On the other hand, seeing God up close and personal may change your appearance and change your outlook in such a way that others will notice the difference. The apostle Paul says that believers in Jesus are being changed day by day by the Holy Spirit until they reflect the very image of Christ. As we live Christ, our nature changes and glows with his presence. That is the way we are supposed to live, in that kind of connection with Christ.
Helping Others
And living in Christ, living as Christ means loving and helping others. In Matthew's gospel, Jesus says that he will be found in the most vulnerable among us: the hungry and the homeless, prisoners, those without clothes and those who are sick. That is where we find Christ. That is God's area code.
Area code 212 is no doubt a great code to have, but let us move beyond area code 212 and move into the very presence of God. God's area code is much closer; God's area code is eminently more powerful than we imagine.
The poet Gerard Manley Hopkins once said, "Christ plays in ten thousand places … through the features of men's faces" (As Kingfishers Catch Fire). Hopkins is right; we encounter the living Christ in the many faces of women and men bearing many names and speaking many languages.
Recently, in Tijuana, Mexico, a young man bearing the Spanish name Jesus told a church group, "When I was a baby, not even a year old, my mother threw me away like trash. But somehow God found me and in the arms of one of his servants brought me here to Casa de la Esperanza (House of Hope). This is my family, the family of God, and this is why I have hope, too."
We indirectly encounter God's presence in Jesus the Mexican, thrown away as a child, living in an orphanage, where he shares God's love with visitors who come to serve the poor. So when we attempt to share God by serving the poor and helpless, we find that what happens is that they share God with us.
God has called us to be a community, sharing his holiness, reflecting his presence for our world. God longs to make himself known to us in what we think of as the ordinariness of our lives, but we are too busy with our own plans to see God's work. Or, perhaps we are afraid of the changes God might make in our lives. So we cherish our sins that separate us from God. But that is a pitiful way to live. We need to pray that God will forgive all that separates us from him, that God will transform us so that we may reflect his holiness, so that we may be set apart for his purpose. Amen.
Source:
Rojas. Peter. "Pick an area code, any area code…" Wired, July 2003.

If you have questions or comments, email Tony Grant

Copyright 2003 York Associate Reformed Presbyterian Church
Last modified 03/23/04